Shishani & The Namibian Tales: 'We bring the world together in our music'
With her debut album 'Itaala', the multicultural Shishani & The Namibian Tales are taking the Dutch music scene by storm. The album, which was crowned by Mixed World Music as the best Dutch World Music Release, merges different musical traditions to create an unprecedented new genre. Shishani Vranckx, frontwoman and alumna of Cultural Anthropology and Development Sociology, tells how anthropology has helped shape her music.
After obtaining her Bachelor's degree in Cultural Anthropology and Development Sociology at Leiden University, Shishani Vranckx (29) completed a Master's degree in Musicology. Her passion for people, culture and music are woven together in her album Itaala. 'If anthropology teaches you anything, it is to keep an open mind about the world,' she says.
Back to Namibia
Shishani's roots are spread throughout the Netherlands, Namibia and Belgium. She came to the realisation early on that there are multiple ways of observing the world. 'My mother is Ndonga, part of the Namibian ethnic "Aawambo" group, she explains. 'Ever since childhood, I've had the desire to return to Namibia and immerse myself in my mother's culture, especially through music.' She came up with the idea to tell the personal story of her return, her family history and the history and stories of the different ethnic groups of Namibia through music: The Namibian Tales.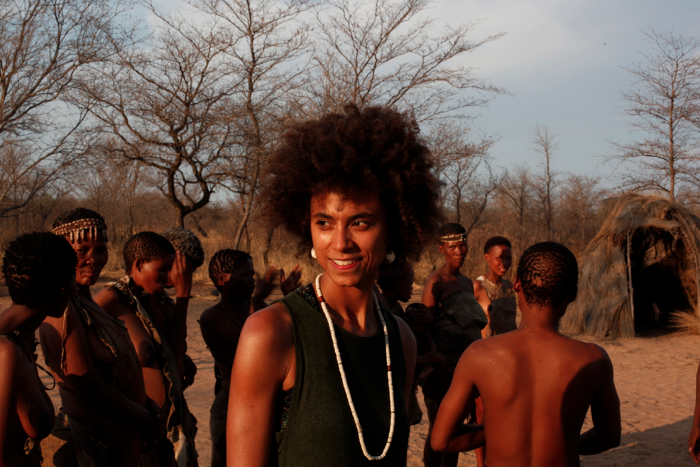 World music
But Shishani & the Namibian Tales became more than that. 'In 2015, Shahin During and I started this group,' she relates. 'We knew that Namibian traditions would be the starting point, but we wanted to approach our music with an unusual, unique combination of instruments.' In cosmopolitan Amsterdam, they found the German Debby Korfmacher (kora, mbira, vocals) and the Hungarian Bence Huszar (cello). The multicultural ensemble was complete. Shishani: 'We bring the world together in our music.'
Merging all these musical traditions and shaping them into a cohesive sound was still a challenge. 'During the writing process, it seemed a daunting task to merge all the styles. It is like nothing you've heard before. We didn't have a model that we could say: that's how it should sound. Because how do you combine the West African kora with the cello and Namibian elements? But I think that the mix of genres we were able to record in our album truly became a unique sound.'
Studying the Bushmen
The collaboration on Itaala has given them a taste for more. The band is currently working on a new project: a musical study with the San ('bushmen') in Namibia. Elements of San music can also be heard in Itaala. Shishani: 'The San is one of the oldest ethnic groups in the world, but also one of the most marginalised. With the march of modernisation, their musical tradition is falling into oblivion.'
'We want to study how San make music and what significance their songs have? In this way, we are trying to preserve a bit of history.' For this research, Shishani also draws on the knowledge she gained during her anthropology studies. 'In anthropology, you learn to perceive how societies are composed. You don't look at them as something static, but rather as a dynamic, living organism. You become aware of processes in societies. It opens your eyes to the world.'

Shishani & The Namibian Tales started an international tour in January. They can be seen on 25 March 2017 in the Tolhuistuin in Amsterdam.