Moritz Jesse on BREXIT at Global Legal Network Conference in Tallinn
Moritz Jesse, Associate Professor of European Law at the Europa Institute, presented at the annual conference of the Global Legal Network, which took place in November in Tallin (Estonia).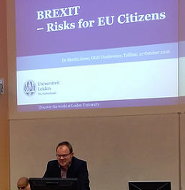 His talk was about Brexit and, in particular, the risks involved for EU Citizens living in the UK and UK citizens living in the EU.
More information can be founds here.