the Law of Unmanned Aircraft Systems
Benjamin Scott, master student Air and Space law in Leiden, was given a unique chance by Professor Pablo Mendes De Leon. Benjamin was allowed to edited "The Law of Unmanned Aircraft Systems". In close collaboration with the professor, staff of the International Institute for Air and Space Law at Leiden Law School and with Alumni they wrote this new book.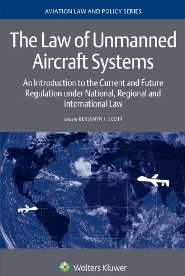 The Law of Unmanned Aircraft Systems is a collection of expert essays that provides a comprehensive overview of the areas of air law relevant to Unmanned Aircraft Systems (UAS). The acceleration in the development and use of UAS across the world has rapidly spawned a patchwork of regulatory initiatives in the field. It is with the purpose of synthesizing and clarifying this diverse body of international, regional, and national law – and of indicating trends and areas of concern – that this extraordinary collection has been compiled. The authors, working in many different parts of the world, are all in some way affiliated with the International Institute of Air and Space Law at Leiden University as alumni, faculty members or students We took the opportunity to interview the young editor Benjamin Scott.
What is the concept of the book and how did it come about?
In early 2014 Professor Mendes de Leon was kind enough to invite me to co-write a chapter on unmanned aircraft systems (UAS). While attending to the chapter, it became clear that the thirty pages designated for air law did not provide ample space to comprehensively explore this developing area and it became apparent that there was a need to extend this work into a more substantial body of writing. One purpose of the book then, was to explore this topic in greater depth in order that a comprehensive work that critically introduces UAS aviation law be made available. Another motive for the book was for it to be a celebration of the great achievements of the staff, students and friends of the International Institute of Air and Space Law at Leiden University. Therefore, all those who have contributed, whom my deep gratitude goes out to, consist of aviation experts with a strong involvement with the Institute.
How is the book structured and which areas of the law does it cover?
The book is separated into three core sections: International Issues, Regional Developments and National Laws. The key areas of law explored are criminal and civil liability; the role of international and supranational agencies – International Civil Aviation Organization (ICAO), European Union (EU), European Aviation Safety Agency (EASA), Association of Southeast Nations (ASEAN); insurance; privacy; cybersecurity; civil UAS markets; and national law covering 29 different jurisdictions across 6 continents. All of these key areas are thoroughly examined from an aviation law perspective, while at the same time, appreciation is given for the multidisciplinary dimension that UAS occupy.
What do you see as the greatest challenge facing the future regulating of UAS?
Within the history of aviation, perhaps one of the biggest challenges is finding the political motivation to build up and amend regulations to optimise the safe and secure transportation of people by aircraft. Typically the establishment of new or amended legal instruments often follows a major incident or accident where it often takes an act involving the loss of life or damage to property to provide the necessary motivation. However, this does not appear to the case for UAS as many bodies at an international, regional and national level, in both public and private spheres, are taking or pushing for regulatory action. With this comes another challenge and one that has the potential to be the greatest obstacle to face the regulation of UAS; harmonisation. ICAO, EASA, states like the United States and other stakeholders are all looking into the regulation of UAS, but with little cooperation and dialogue among them. Thus, it is happening in a fragmented way where information sharing is limited, secrecy is present, duplicity is common and knowledge gaps are prevalent. Such a regulatory system is simply not suitable for a safe and secure aviation environment, and harmonisation should be pursued.
UAS fall within the definition of 'aircraft' under international air law. To what extent are they regulated as traditional aircraft?
ICAO has provided a definition of 'aircraft' in its Annexes to the Chicago Convention and it is generally accepted that UAS fall under this definition. Due to this, UAS are just one type of aircraft and are not considered distinct by the applicable rules, unless expressly stipulated. Only where an explicit separation in the rules is made, can they be seen as distinct, as that which occurred with Amendment 43 to Annex 2 to the Chicago Convention. Thus, these aircraft, with both obvert and subvert distinctive features, find themselves being or going to be governed by laws tailored for manned aviation. This leads to many problems as often the rule tailored for manned aviation is just not compatible for unmanned aviation. Therefore, they are generally regulated as traditional aircraft, unless stated otherwise, and this is and will cause significant issues that must be addressed by taking regulatory steps to help guarantee the success of the industry and the protection of third parties from unwanted interference.
What is your next project?
I have always been drawn to academia as it provides a platform to improve and grow in an open and stimulating environment. Therefore, after completing the Masters in Air and Space Law at Leiden, I knew that doing a Ph.D. would be a future step of mine. However, before undertaking such a project, I felt that I first needed some practical experience, and an innovative and original topic that required rigorous scrutiny. During my time at the European Aviation Safety Agency (EASA) as a Legal Adviser, I have been fortunate enough to have acquired in-depth experience working on aviation cybersecurity. I find this area both fascinating and relatively unexplored from a legal perspective, so it felt like a natural choice for my thesis. Therefore, I will shortly be commencing my Ph.D. on the multinational regulation of aviation cybersecurity at the University of Cologne.