Inaugural lecture Alan Neal
On the 17th of October professor Alan Neal will deliver his inaugural lecture as Professor of Social Justice at Leiden Law School. Professor Neal will teach the international labour law course in the Master's Program Arbeidsrecht (Labour Law), the inaugural lecture will also be the first lecture in this course.
The rotating professorship Social Justice - which was established in honour of Paul van der Heijden upon his departure as Rector Magnificus and Chairman of Leiden University – is occupied annually by an expert in the field of international labour law or European labour law, including fundamental social rights. The chair was previously held by Lance Compa (Cornell University).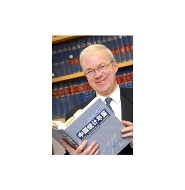 As co-founder and editor of the International Journal of Comparative Labour Law and Industrial Relations Neal has made a huge contribution to the development and research of international labour law. He has advised the ILO, the EU Commission and both the UK and Chinese governments extensively on (international) labour law. Over the last few years Neal's research and teaching have turned to the development of labour law in China and the influence of international norms on Chinese labour law. Alan Neal is professor of labour law at Warwick University and is a judge at the Cental London Employment Tribunal.
The lecture will take place on October 17, at 17 hrs in the Lorentzaal (A144) of the Kamerligh Onnes Building. The Department of Labour Law cordially invites the colleagues at Leiden Law School to attend the inaugural lecture. To mark this festive occasion a reception will be given at the KOG restaurant after the lecture.
More information about Alan Neal