Start Minor Sustainable Development
Monday 5 September the eighth edition of the interdisciplinary Minor Sustainable Development started. With 65 students coming from more than 20 different disciplines we've a record number of students and backgrounds.
Monday 5 September the eighth edition of the Minor Sustainable Development started. The opening speech was given by Lucas Simons, founder and director of UTZ Certified, and of two consultancy companies, NewForesight and SCOPEinsight, working on sustainable market transformation. Inspiring words to come into action for sustainability and to be the change maker you wish to see.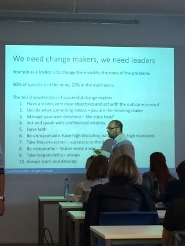 A great start for this 5 month full-time programme about sustainability issues and the major (environmental) problems we're facing in today's world.
The minor has a tremendous growth this year with 65 students from more than 20 different backgrounds. Students are coming from humanities, social sciences and technical sciences as well. We are happy to welcome such an interdisciplinary group!
Not only the students come from different academic backgrounds, also the classes will be taught by professors and lecturers from different disciplines. The main contribution, however, will come from the Institute of Environmental Sciences (CML).

Researchers of both CML's research programs, Conservation Biology and Industrial Ecology, will introduce the students into the field of Sustainability Sciences and will teach them about their own work. The minor is also a good preparation for the Master Industrial Ecology, which you can start both the first and second semester.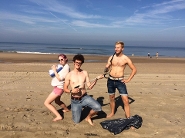 After the introduction day we went for a teambuilding trip to the Stayokay Hostel in Noordwijk. We brought sustainability immediately into practice with a beach-clean up; while enjoying the sunny weather.
A great kick-off for an exciting upcoming half year!