Speckmann prizes 2016
On Monday 15 February 2016 the annual Speckmann Prizes were granted at the Institute of Cultural Anthropology and Development Sociology. BA-studenten Laura Bakker, Kimberly Drijver and Martijn Kooijman were awarded for the best Fieldwork NL project; Rosi Aryal was honoured for having written the best master's thesis.
Violence against women in Sierra Leone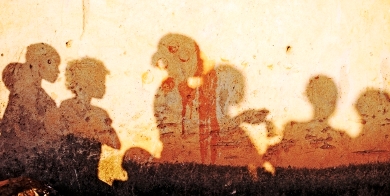 MA student Rosi Aryal was awarded the Speckmann Prize for her thesis 'Containing Power, Asserting Agency: Understanding Women's Accounts of Wartime and Domestic Conflict in Urban Sierra Leone.'
Rosi worked for three months on her research in Sierra Leone on war-related and domestic violence against women. Her thesis demonstrates that it is not only difficult for women to talk about their experiences with violence; it is also difficult to interpret their stories because of the enduring stereotypes about women and violence in Sierra Leone.
More about Rosi's research and findings:
How mosques affect the societal roles of their visitors
The Speckmann prize for the best bachelor's research project was awarded to Laura Bakker, Kimberly Drijver and Martijn Kooijman for their report 'Verschillend, maar toch één'.
In the month January 2015 they investigated the islamic organisation 'Centrum de Middenweg' in Rotterdam. The students adopted a mixed methods approach in order to gain insight how the mosque affects its visitors' roles in Dutch society.
According to the jury Bakker, Drijver and Kooijman convincingly demonstrated the importance of individualism and personal development for the visotors. The accessible and neutral character of this mosque stimulates knowledge and debate about religious and social questions. The research was done very thoroughly and offers a beautiful, surprising insight into a mosque that has become an important symbol for society's discussions about freedom, inequality, and fundamentalism.
Speckmann-Prijzen
Er worden jaarlijks twee Speckmann-prijzen toegekend. Eén van de prijzen gaat naar de groep studenten met het beste bachelor leeronderzoeksverslag van hun etnografisch veldwerk. Bachelorstudenten CA-OS voeren in groepen een binnenlands leeronderzoek voor het vak Veldwerk NL uit in hun tweede studiejaar. Dit onderzoek duurt drie weken.

De andere prijs gaat naar de Masterstudent met de beste masterscriptie. Masterstudenten CA-OS doen drie maanden veldwerk in Nederland of in het buitenland.

Voor meer informatie over de Speckmann-prijs en voor winnaars van voorgaande jaren, zie Speckmann-Prijzen CAOS.