Update national FameLab competition
Biologists Michelle Spierings and Ryan Bogaars will both join the Dutch Final of the FameLab Competition on April 21st in Museum Boerhaave, Leiden.
Communicating science accessibly and attractively is an ever-growing priority for researchers worldwide. FameLab is an initiative to help and stimulate young beta scientists to acquire valuable skills to communicate their work to a non-scientific audience.
Spierings and Bogaars took part in a two-day fully funded master class together with the winners of other Dutch heats (altogether 16 people). Michelle, Ryan and 8 others have been selected to join the Dutch Final. The winner will represent the Netherlands in the FameLab International Final in the UK.
Michelle Spierings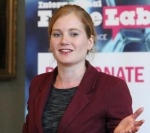 Michelle Spierings presented her PhD-research on linguistic capacities of songbirds and infants. Michelle Spierings: "The semi-finales were an exciting event. All participants were well prepared and excellent presenters. I was happy to still be selected for the finals! The jury didn't have any comments, only the interesting question: "what can animals teach us about science communication?". I'm looking forward to the final. I'm preparing my new talk with all my enthusiasm and I'm hoping to win of course."
Ryan Bogaars
Ryan Bogaars presented work from the Natural Products Lab on the topic of Natural Deep Eutectic Solvents (NADES). Ryan Bogaars: "I was not really planning of getting this far, although I was hoping of getting this far off-course. I expect the finals to be a fun night. It is nice to see all the participants of the masterclass again and fun to be doing the final in front of a large audience. The amount of camera's and the fact that it will be broadcast on Dutch television is slightly intimidating but will be a new experience."