Microbial protection of food crops and human health
We investigate bacteria and fungi to understand their malicious or beneficial impact on food crops and their pathogenic or antibiotic role in human health.
Microbial protection of food crops and human health
Microbial infections can have a dramatic impact on crop yield and health of animals and humans. Fungal infections also pose an increasing threat to public health as many pathogens no longer respond to medical treatments, because of resistance development against current drugs.
We explore the protection of food crops against phytopathogens in environmentally friendly ways through for example the use of beneficial bacteria (e.g. Pseudomonas spp.). We also investigate and exploit Aspergillus fungi as a host for the production of enzymes, antibodies, viral epitopes, chemicals and antibiotics, for the development of new medical applications.
Winning the 'Academische Jaarprijs' (Academic Year Prize) in 2011 resulted in three science communication projects which are currently running. Micropia concerns a permanent exhibition in the Artis Royal Zoo in Amsterdam that zooms into the invisible world of how microorganisms influence our lives. 'Antibiotica Gezocht!' (Wanted: Antibiotics!) is a practical for high school pupils (havo/vwo) in collaboration with the Erasmus Medical Centre in Rotterdam. Microsafari is an online exhibition in collaboration with the Boerhaave museum in Leiden about infectious diseases, antibiotics and antibiotic resistance.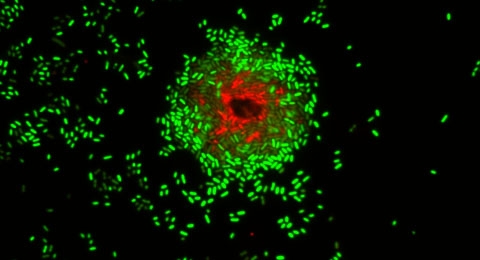 Pseudomonas putida are important bacteria that live in the rhizosphere of plant roots and can be exploited for biocontrol of crop pathogens.
Links