Call-induced water ripples put frogs at risk of bat predation
Wouter Halfwerk and colleagues from Panama and the US published a paper on multisensory communication in Science. The authors provide compelling data on the consequences of multisensory perception on signal evolution in tropical frogs.
Male túngara frogs ( Physalaemus pustulosus) croak to impress female frogs, but their calling activity coincidentally disturbs the water surface and produces ripples that are picked up by rival frogs and frog-eating bats. Wouter has shown that both frogs and bats integrate the ripples with the acoustic component to improve their perceptual assessment of a calling male, effectively turning the frog's sexual behaviour into a multisensory display.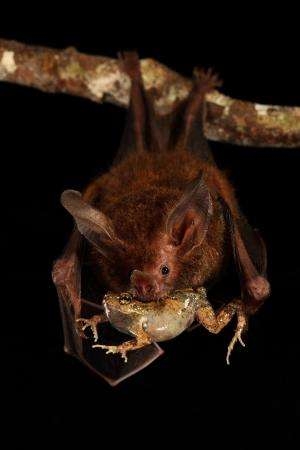 Interestingly, frogs and bats do not share the same medium or sensory system. Rival frogs perceive the ripples through tactile sensation, while bats are thought to scan the water surface using echolocation. Frogs quickly stop calling when disturbed, but they cannot stop the ripples that fade out slowly on the water surface. The experimental study of Wouter and colleagues revealed that bats can indeed use the ripples as a guide to their prey as they attacked frog models more often when associated with ripples than without them.
Wouter Halfwerk is a former PhD-student of the IBL and this is the first publication of his post-doctoral research funded through a Rubicon grant from NWO. He carried out the work in Panama in collaboration with people from the Smithsonian Tropical Research Institute, the University of Texas at Austin and the University of Salisbury. He is currently writing on follow-up papers as a guest at the IBL and flies in two weeks back to Texas to continue his work on frogs.
Direct link to the article in Science:
Halfwerk, W, Jones, P.L., Taylor, R.C., Ryan, M.J. & Page, R.A. 2014. Risky Ripples Allow Bats and Frogs to Eavesdrop on a Multisensory Sexual Display. Science, Vol. 343: 413-416, DOI: 10.1126/science.1244812.