Book Launch
'Translating Food Sovereignty' by Matthew Canfield
Date

Friday 13 May 2022

Time

Location

Room

The Global Lounge of the Juridisch Café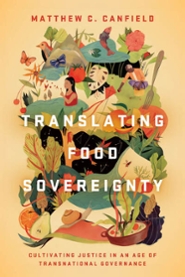 Matthew Canfield's new book, Translating Food Sovereignty, came out last month from Stanford University Press. The book is based on trans-scalar, multi-sited ethnographic fieldwork with activists based in the Pacific Northwest of the United States. It examines how they mobilize the claim of food sovereignty across local, regional and global arenas of governance. In doing so, it reveals how activists are constituting new justice claims, strategies of legal mobilization, and horizons of justice in relation to changing forms of global political and legal organization.
In celebrating the launch of Matthew Canfield's new book, colleagues will first offer some brief comments on the book followed by drinks.

The event is being organized by the Law and Society Association Leiden (the Study Association of the MSc in Law and Society).