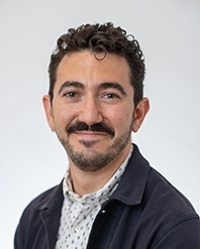 Matthew Canfield
Assistant professor
Name

Dr. M.C. Canfield Ph.D.

Telephone

E-mail

ORCID iD
Matthew Canfield is a cultural anthropologist with a background in socio-legal studies. He earned a BA in Anthropology and International Studies from the Johns Hopkins University, an MA from the Institute of Law and Society at New York University, and a PhD in Cultural Anthropology from New York University.

Drawing on ethnographic methods, his research examines the law and governance of food security. Located at the intersection of human rights, transnational governance, and agro-environmental politics, he is interested in the ways that social movements and civil society are mobilizing rights to shape food systems governance.

His book, Translating Food Sovereignty: Cultivating Justice in an Age of Transnational Governance, examines how transnational activists based in the United States are mobilizing the claim of food sovereignty. The claim of food sovereignty was developed over two decades ago by agrarian movements, particularly from the Global South, to oppose the liberalization of global food and agricultural markets. It is one of the first global justice claims constituted in relation to networked forms of governance, rather than state law. Using ethnography to analyze how activists mobilize this claim across local, regional, and global arenas, the book demonstrates how food sovereignty activists are developing new networking practices of mobilization in response to a post-liberal landscape of transnational governance. As one of the first multi-sited empirical analyses of mobilization in the context of transnational governance, Translating Food Sovereignty reveals the limitations of existing theories of law and social change and sets a new research agenda for scholars of human rights and legal mobilization in the context of transnational governance.

His current research agenda focuses on two areas. First, he is investigating the role of digital technologies and data governance in the context of food and agriculture, a project supported through funding by the Dutch Research Council (NWO Open Competition SSH XS Grant) and a Starters Grant from Leiden Law School. As part of this project, he co-coordinates the Ethnography of Digital Governance and Society Project (Edges Project) with Danielle Chevalier. Second, he continues to do research on the shifting landscape of global food systems governance.

His research has been published in the Law & Society Review, Law & Social Inquiry, Law, Politics, and Society, Michigan Journal of Law and Society, Transnational Legal Theory, Public Culture, Development, Frontiers in Sustainable Food Systems, the Journal of Peasant Studies, the Max Planck Institute for Social Anthropology Working Paper Series, the Oxford Handbook of Law & Anthropology, and the Oxford Handbook on Transnational Law. He also co-edits the Book Reviews section of the Political and Legal Anthropology Review.

Before coming to the Van Vollenhoven Institute, Dr. Canfield was an Assistant Professor of Law, Politics, and Society at Drake University and a Max Weber Postdoctoral Fellow in the Department of Law at the European University Institute in Florence, Italy. He was also a visiting researcher in the Department of Law and Anthropology at the Max Planck Institute for Social Anthropology and the School of Regulation and Global Governance (RegNet) at Australia National University.
Assistant professor
Faculteit Rechtsgeleerdheid
Instituut voor Metajuridica
Van Vollenhoven Instituut
No relevant ancillary activities