International Organisation (MSc)
This specialisation focuses on the interplay of international rules and institutions, non-governmental organisations, and national governments in an era of emerging powers, technological change and pressing issues of security, prosperity and sustainability.
Part of
Political Science, International Relations and skills-oriented courses
Do you want to deepen your knowledge of international relations? Are you interested in the dynamics of inter-governmental cooperation and new forms of global governance as they relate to the rise and fall of great powers, the threat of war, the dynamics of globalization, the future of human rights, and the management of environmental problems? This programme is designed for you: it combines substantive courses in political science and international politics with skills-oriented courses on policy analysis, monitoring, and evaluation, and a research thesis on a topic of your choice.
High-ranking, international staff
You study in one of the most highly ranked departments of political science in Europe. Your lecturers are scholars from many different countries, with expertise in all areas of international politics. Several staff members have practical experience in foreign policy formation, diplomacy, and international organisations.
A vibrant student and cultural life
You will be based in The Hague, the political capital of The Netherlands and home to many important international organisations, including European Union and United Nations agencies, treaty organisations, and prominent non-governmental organisations. The Hague has a vibrant student and cultural life and is beautifully situated near beach and sea.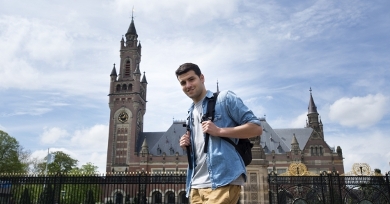 More information