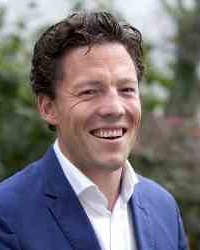 Wimar Bolhuis
Assistant Professor
Name

Dr. W.D. Bolhuis

Telephone

E-mail
Wimar Bolhuis is an assistant professor of Economics at the department of Economics.
Wimar Bolhuis is assistant professor at the department of Economics. He holds master's degrees in economics, public administration and social psychology. On October 11th 2018 Wimar received his PhD on the dissertation 'From Words to Agreement; An analysis of the parties' choices in the assessments of election manifestos and coalition agreements by the CPB Netherlands Bureau for Economic Policy Analysis, 1986-2017'.

Wimar is also Deputy Director of Social Affairs at the Social Economic Council (SER). He previously worked as a socio-economic policy officer for the Dutch Labor party at the House of Representatives, as a senior inspector for the Inspectorate of the Budget at the Ministry of Finance, and as political advisor to State Secretary Klijnsma at the Ministry of Social Affairs and Employment.
Assistant Professor
Faculteit Rechtsgeleerdheid
Instituut Fiscale en Economische vakken
Economie
No relevant ancillary activities