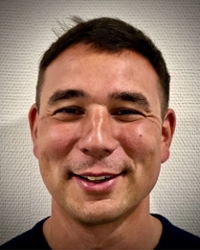 Wei Chu
Postdoc
Name

Dr. W. Chu

Telephone

E-mail

ORCID iD
Wei Chu is a postdoc researcher in the Neanderthal Legacy research project.
Office days
Monday to Friday
Research
The overarching goal of my research is to document how culture and environment relate to our evolutionary foundations through the dual lenses of archaeology and evolutionary anthropology. I am particularly interested in determining how, despite common underlying motivations, material cultural diversity arises from the structural constraints of larger social/environmental systems. Methodologically, I focus on developing and testing new models of how artifacts, archaeological sites and fossilized behavior relate to past environments using data-driven techniques gathered from the field and laboratory. Recently, my scholarly focus has been to pinpoint the nature and timing of the Late Middle Palaeolithic and early Upper Paleolithic in the East-Central Europe and debunk the myth that climate was the main driver for the initial modern human settlement of Europe. Additionally, I maintain a separate research stream of experimentally detailing post-depositional changes to lithic artifacts.
In August 2021, I was hired as a senior researcher by Prof. M.A. Soressi in her VICI (NWO) project "Neandertal Legacy. Contacts and interactions in Europe 40,000 years ago".
Curriculum vitae
Education
2021 Habilitation, Prehistory; University of Cologne, DE
2013 Ph.D., Archaeology; University of Reading, UK
2008 M.A., Paleoanthropology; Leiden University, NL
2004 B.A., Cultural Anthropology (honors); Rutgers University, USA
Previous professorial appointments
2021–pres Privatdozent, Institute for Prehistory, University of Cologne, DE
2014–2021 Lecturer/Researcher, Institute for Prehistory, University of Cologne, DE
2019 Visiting Scholar, New York University
2007 Intern, American Museum of Natural History, New York, USA
Postdoc
Faculteit Archeologie
World Archaeology
Human Origins
Work address
Van Steenis
Einsteinweg 2
2333 CC Leiden
Room number A1.11
Contact
Postdoc/ Guest
Faculteit Archeologie
World Archaeology
Human Origins
Work address
Van Steenis
Einsteinweg 2
2333 CC Leiden
Contact
Faculty Council member
Diversity Committee member