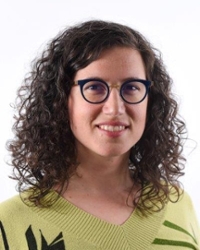 Ruthie Pliskin
Assistant professor
Name

Dr. R. Pliskin

Telephone

E-mail

ORCID iD
Short CV
Ruthie Pliskin obtained her PhD in social psychology from Tel Aviv University and the Interdisciplinary Center Herzliya, where she examined the interrelations of ideology and emotions in intergroup conflict under the supervision of Eran Halperin, Daniel Bar-Tal, and Gal Sheppes. She then worked as a Postdoctoral Associate at New York University, in John Jost's lab, examining ideological differences in emotion regulation in various contexts. Since 2017, she currently works at Leiden University as Assistant Professor of Social and Organizational Psychology.
Research
Ruthie's central areas of interest are intergroup relations, emotions and their regulation, and political psychology, with a focus on ideology and moralization. Her current research focuses on ideological differences in emotions and emotion regulation processes in interpersonal and intergroup relations. Additionally, Ruthie's research examines the psychology of intergroup hostility and conflict, focusing on how group members assert and rationalize a sense of superiority over other groups. She is also interested in social change and collective action, as well as in psychological approaches to overcoming barriers to intergroup conflict resolution.
Teaching
Social Psychology (UCL)
Intergroup Relations
Emotions and (Ir)Rationality in Consumer Behaviour
Social Psychology in Organisations
Bachelor Project - International
Grants
2016-2017 - TAU President's Post-Doctoral Scholarship for Excelling Female Graduates
2016 - The Mind & Life Institute's 1440 Grant for the investigation of social and relational outcomes of contemplative practice
2015 - Prof. Rahamimoff Travel Grant for Young Scientists of the US-Israel Binational Science Foundation (BSF)
2015 - The David and Paulina Trotsky Fund Excellence Scholarship for PhD students
2015 - TAU Social Sciences Faculty Excellence Scholarship for PhD students
2014 - TAU Scholarship for a Short Research Stay at the University of Groningen
Registrations
International Society for Political Psychology (ISPP) – member of the Governing Council
Society for Personality and Social Psychology (SPSP)
International Society for Research on Emotion (ISRE)
Associatie van Sociaal Psychologische Onderzoekers (ASPO)
Kurt Lewin Institute (KLI)
Relevant links
Assistant professor
Faculteit der Sociale Wetenschappen
Instituut Psychologie
Soc., Econom. en Organisat Psych.
No relevant ancillary activities