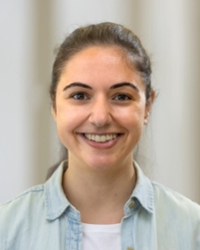 Rita de Sousa e Silva
Assistant professor
Name

Dr. A.R. de Sousa e Silva

Telephone

E-mail
Professional experience
Rita Sousa Silva is an ecologist interested in how people and urban nature influence each other.
Rita studied Biology (BSc) and Ecology and Environment (MSc) at the University of Porto, Portugal. After graduating, Rita went to Belgium, where she did a PhD in Forest Sciences at KU Leuven, researching the importance of tree diversity for the resilience of forest ecosystems against climate change. In 2018, following her graduation, she moved to Canada, first to do a postdoc at the Institute of Temperate Forest Sciences and later at the Université du Québec à Montréal, where she was part of an interdisciplinary laboratory on urban forests for health. Rita's work focused on how the abundance and diversity of urban trees may be related to the increased prevalence of pollen allergies in cities. In 2021, Rita was awarded a 24-month residency as a research fellow at the Young Academy for Sustainability Research at the University of Freiburg, Germany. During this time, she co-developed a research project on the role of greenspace as an extreme heat adaptation strategy among German urban residents. Prior to her present appointment as Assistant Professor at Leiden University, she was a Lecturer at University College Freiburg, Germany.
Rita started in CML in 2023 and is the Co-Chair of the Science-Policy-Society Interfacing Taskforce of the BiodivClim Knowledge Hub, part of the European Biodiversity Strategy for 2030
Research topic
Rita's current research revolves around the topics of urban forestry, biodiversity, ecosystem services, and human well-being. She is particularly interested in understanding: (i) the ecological features of urban forests that have the potential to benefit human health and well-being in urban environments; (ii) the variety of ways in which people perceive and respond to specific characteristics of urban trees or urban forests; and (iii) the role of species and functional diversity for the functioning and the resilience of urban forests.
Her work is tree-centred and intrinsically interdisciplinary, bridging different domains of ecology (e.g., urban ecology, forest ecology, ecosystem ecology, functional ecology) with social and environmental health sciences. Rita combines field, lab and quantitative approaches in an effort to produce evidence that can be effectively translated into policy solutions, contributing to transforming cities into healthier, more sustainable, resilient, and inclusive places.
Rita has ongoing research collaborations with colleagues across Europe and North America, working on biodiversity, nature-based solutions, forestry, climate resilience, public health, and sustainability. She is also a member of TreeDivNet, the largest network of biodiversity experiments worldwide.
Assistant professor
Science
Centrum voor Milieuwetenschappen Leiden
CML/Environmental Biology
Work address
Van Steenis
Einsteinweg 2
2333 CC Leiden
Room number B3.12
Contact
No relevant ancillary activities