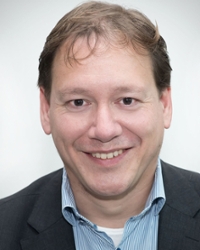 Peter Verhaar
Digital Scholarship Librarian
Name

Dr. P.A.F. Verhaar

Telephone

E-mail

ORCID iD
Fields of interest
My research focuses broadly on the various ways in which digital technologies transform and enhance scholarly practices in the Humanities. More specifically, I am interested in computer-assisted literary research, scholarly tools criticism, born-digital academic heritage, and scholarly publishing in the Humanities.
Research
My PhD dissertation concentrated on the question of whether the tools and algorithms that have been developed in the field of data science can help us to interpret works of literature. To be able to explore the possibilities and the limitations of computer-based literary criticism at a practical level, I have conducted a case study which concentrated on the analysis of English poetry. As part of this case study, I have created software for the recognition and visualization of a number of widely used poetic techniques, such as rhyme, alliteration, enjambment, and onomatopoeia. My thesis has shown that quantitative analyses performed on data about literary devices can often reveal surprising qualities of poems, which can lead to new interpretative readings.
In one of my current research projects, I apply technologies in the field of text and data mining to develop metrics for determining the societal relevance of academic publications in the Humanities.
C.V.
2004-present
Lecturer, MA Book and Digital Media Studies, Leiden University
2016-present
Digital Scholarship Librarian, Leiden University Libraries
2005-2016
Project Manager, Leiden University Libraries
2002-2004
Junior Lecturer and Research Assistant, Leiden University
2002-2005
Lecturer in Academic English, University of Amsterdam
1998–2002
BA and MA in English Language and Literature,Leiden University
Teaching
I teach several courses about the technologies that we can use to search, visualize, and disseminate digital text. The course "Digital Text and Data Processing," for instance, is a basic introduction to text mining technologies. In this course, students are familiarized with the Python programming language, and learn how to use this technology to extract patterns from large text corpora. The course "Digital Media Technology" concentrates on the medium-independent markup of text through TEI and on the organization of digital content in relational databases. In 2018, I coordinated the course "Digital Access to Cultural Heritage," which was organized in close collaboration with the National Library (KB) in The Hague. Additionally, I coordinate the course "From Gutenberg to Google" in the BA Minor "Boek, boekhandel en uitgeverij".
University Lecturer
Faculty of Humanities
Centre for the Arts in Society
Boekwetenschap
Work address
Arsenaal
Arsenaalstraat 1
2311 CT Leiden
Room number A0.08
Contact
Digital Scholarship Librarian
Universitaire Bibliotheken Leiden
Onderzoek & Onderwijs Diensten
Centre for Digital Scholarship
No relevant ancillary activities