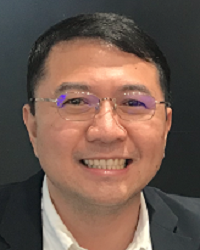 Oliver Tuazon
External PhD candidate
Name

Mr. O.M. Tuazon LLM MSc

Telephone

E-mail
Oliver M. Tuazon is an external PhD candidate at eLaw, Center for Law and Digital Technologies at Leiden University, since October 2020.
Biography
Oliver M. Tuazon is an external PhD candidate since October 2020. He holds bachelor and master degrees in both fields of science and law. He is a bonafide member of the Philippine bar and is connected with a full service law firm. He is currently researching on the interplay among genetic and health care data, privacy and data protection at the Center for Law and Digital Technologies (eLaw) at Leiden University.
Oliver finished his master of laws (LLM) cum laude in forensics, criminology and law at Maastricht University (Netherlands). His thesis dealt with the theoretical feasibility of setting up forensic universal DNA databases in Europe on the basis of jurisprudence emanating from the European Court of Human Rights (ECtHR). He finished his bachelor of laws (LLB) cum laude at the Faculty of Civil Law of the oldest university in Asia (1611), the University of Santo Tomas. He is now doing his PhD in law at the Center for Law and Digital Technologies (eLaw) of the oldest university in the Netherlands (1575), Leiden University.
Before pursuing his law career, he was a faculty member at the Institute of Biology, College of Science, University of the Philippines. He was an outstanding graduate awardee for his master of science degree in microbiology which he completed under a sandwich program where he did his course work at the University of the Philippines and thesis work at the Massachusetts General Hospital under a professor from Harvard Medical School. His thesis was on the molecular detection of clarithromycin resistance markers of the ulcer-causing bacterium, Helicobacter pylori. He earned his bachelor of science cum laude in fisheries major in fish processing technology at the Miag-ao campus of the University of the Philippines where his thesis focused on the screening, characterisation and identification of lactic acid bacteria that are antagonistic to a histidine decarboxylating bacterium.
Oliver balances his career by volunteering in organizations that promote youth leadership and development where he serves as a consultant, speaker and mentor. He used to climb mountains regularly with his friends. In a relatively flat country like the Netherlands, he has to settle for the hills of Maastricht.
Research
GDPR introduced a novel category of 'genetic data' whose processing is prohibited unless it falls under some exceptions [article 6 in relation to article 9(2)] and member states are allowed to introduce country-specific guidelines [article 9(4)]. Both this novelty and the allowance for further conditions by member states call for guidelines in the formulation of legislation that respect the rights to privacy and data protection while at the same time promote health care research. Oliver's research focuses on elucidating key principles in this novel field—the nature of genomic and genetic data, its ownership, and the efficacy of consent—that will serve as foundations for these legal frameworks that are expected to arise in the coming years.
Ancillary Activities
Oliver is an associate at the Sy Selva Attorneys & Counselors-at-Law, a full service law firm located at the Ortigas central business district in Pasig City (Philippines). He has handled cases in the fields of tax, corporate, criminal, administrative and family-estate law. He also heads the Executive Committee of Universitas Foundation, Inc., a non-stock, non-profit organization that aims to form principled leaders in various sectors of society.
External PhD candidate
Faculteit Rechtsgeleerdheid
Instituut voor Metajuridica
eLaw@Leiden