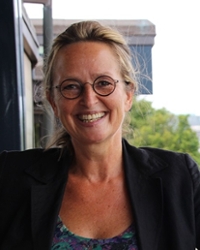 Olga van Marion
University Lecturer
Name

Dr. O. van Marion

Telephone

E-mail
Olga van Marion is a University Lecturer at the Leiden University Centre for the Arts in Society.
Fields of interest
- Medievalism: Indigenous roots of the Dutch Renaissance. The conceptions of the medieval in early modern Dutch literature
- Nachleben: The reception, transformation and appropriation of classical texts in early modern Dutch literature (1550-1800)
- Gender: Self-imaging of female writers in Dutch early modern culture
- Translation Studies: Modern and historical Dutch literature translated into European languages
Research
I am currently exploring the field of the creative conceptions and representations of 'the medieval' in early modern Dutch literature. The objects of study range from the new editions and adaptations of medieval texts to the depictions of medieval figures and themes in tragedies, comedies, novels and songs.
Curriculum Vitae
2005-present Lecturer Dutch Literature in European context, Dpt. Dutch Language and Culture, Leiden University
2005-2008: Lecturer Historical Dutch Literature, UvA
2005: Doctorate, Leiden University; Thesis on Dutch and Neolatin heroical epistles in the Netherlands ( Heldinnenbrieven. Ovidius' Heroides in Nederland)
1998-2005: Junior lecturer Dutch Studies, Dpt. Dutch Studies, Leiden University
1998: Lecturer Historical Dutch Literature, Dpt. Dutch Language and Culture, Groningen University
1994-2000: Research fellow ('Wetenschappelijk onderzoeksmedewerker') NWO, 4-years grant, Leiden University
1993-1994: Lektorin Niederlandistik, Carl von Ossietzky Universität, Oldenburg, Germany
1991-1992: Co-writer of the Bloomsbury Guide to Women's Literature
1989-1991: Teacher of Dutch, Huygens Lyceum in Voorburg
1989: Master's ('doctoraal') Dutch language and culture, Leiden University
1987: Bachelor's ('kandidaats') Theology, Leiden University
Teaching activities
- MA and BA courses in Historical Dutch Literature
- MA course Translation Studies
- Guestlectures in Historical Dutch Literature at the universities of Coimbra (annually), Vienna, Bratislava, Olomouc, Brno and Prague
Publications
- Books, or contributions to books

2008 'Jacoba aan de Waal'. In: Helden bestaan! Opstellen voor Herman Pleij bij zijn afscheid als hoogleraar Historische Nederlandse Letterkunde aan de UvA. Red. H. Brinkman, J. Janse, M. Mathijsen. Amsterdam, 2008, 130-133.

2007 Princesse Liet-boec (1605). Edited by Olga van Marion and Margot Kalse. In: www.dbnl.org (Digitale Bibliotheek voor de Nederlandse Letteren)

2005 Heldinnenbrieven. Ovidius' Heroides in Nederland. Nijmegen, Vantilt, 2005. Doctoral thesis. ( https://openaccess.leidenuniv.nl/handle/1887/4434)

2001 -'Lessen in liefde. Ovidius' Heldinnenbrieven in de Nederlanden'. In: K. Enenkel, P. van Heck, De mensen van vroeger, de hoven van weleer. Over de receptie van de klassieken in de Europese literatuur. Voorthuizen, 2001, 161-182.
- 'Leidse helden en heldinnen. Humanistische oefeningen in het schrijven'. In: B. Dongelmans, J. Lalleman, O. Praamstra (ed.), Kerven in een rots. Opstellen over Nederlandse taalkunde, letterkunde en cultuur, aangeboden aan Jan W. de Vries. Leiden, 2001, 175-185.

1997 'Een kuise neolatiniste: Johanna Othonia'. In: Riet Schenkeveld-van der Dussen (ed.), Met en zonder lauwerkrans. Schrijvende vrouwen uit de vroegmoderne tijd 1550-1850. Amsterdam, 1997, 140-143. (with Jan Bloemendal)

1996 'Een heldinnenbrief van Helena in het toneelwerk van Jan van Arp'. In: W. Abrahamse (ed.), Kort Tijt-verdrijf. Opstellen over Nederlands toneel. Amsterdam, 1996, 165-170.

1994 A.Agnes Sneller and Olga van Marion (ed.), De gedichtenvan Tesselschade Roemers. Hilversum, Verloren, 1994.

- International (refereed) journals

2001 'The reception of Plutarch in the Netherlands: Octavia and Cleopatra in the Heroic Epistles of J.B. Wellekens (1710)'. In: K. Enenkel, J.L. de Jong, J. De Landtsheer (ed.), Intersections 1.Recreating Ancient History. Episodes from the Greek and Roman Past in the Arts and Literature of the Early Modern Period. Leiden, 2001, 213-234.
2000 'Ovid's Heroides in the Netherlands: A Dutch Princess in a Heroic Epistle of Caspar Barlaeus (1629)'. In: Rhoda Schnur (ed.), Acta Conventus Neo-Latini Abulensis: proceedings of the tenth International Congress of Neo-Latin Studies, Avila, 4-9 August 1997. Tempe, Arizona, 639-645.
1998 'Vechtlust of verliefdheid? Dichterlijke verbeeldingen van Jacoba van Beieren'. In: Tijdskrif vir Nederlands en Afrikaans 5 (1998), 2, 141-148.
1992 'The Netherlands and Flanders: the heritage of Anna Bijns and Hadewych' + 40 A-Z entries. In: The Bloomsbury Guide to Women's Literature. Red. Claire Buck. Londen, 1992, 95-100.

- National (refereed) journals

2007 'Het Princesse Liet-boec van 1605: eigentijdse thema's onder het mom van klassieke personages'. In: De zeventiende eeuw. Cultuur in de Nederlanden in interdisciplinair perspectief 23-1, 13-23.
2006 'Pope slaat Bekker, feit slaat fictie'. In: Armada. Tijdschrift voor wereldliteratuur 42 (2006), 20-25.
2005 'Heldinnenbrieven'. In: Fier. Vrouwen, religie, spiritualiteit 8 (2005), afl. 5, 26-27.
2004 'Aan pathos geen gebrek. Zijn Lucretia's heldinnenbrieven goede poëzie?' In: Literatuur 2004-7, 29-34. ( www.literatuuronline.nl/literatuur/ via: dossiers) 2004 'Gysbert Japix' Paris forlittende Enone'. In: De zeventiende eeuw. Cultuur in de Nederlanden in interdisciplinair perspectief 20-1 (2004), 133-142. 2002 'Zwanger van de ouden. Rustieke eenvoud in de classicistische luister van Hofwijck'. In: Neerlandica Extra Muros 40-2 (2002), 11-24. (with F.R.E. Blom)
1999 'Heldinnen in Holland'. In: Neerlandica Extra Muros 37 (1999).
1997 'Epistolas quasdam sub Heroidum antiquarum nomine pueri scripsimus: enkele liefdevolle antwoorden aan Ovidiaanse heldinnen nader bekeken'. In: Neolatinisten-Nieuwsbrief 9 (juli 1997), 4-8.
1994 ' Heroides-imitaties van Govert Bidloo: De Brieven der gemartelde apostelen uit 1675'. In: De Nieuwe Taalgids 87 (1994), 499-514.

- Other

2008 'Literatuur door telkens nieuwe bril'. Column in: VakTaal. Tijdschrift van de Landelijke Vereniging van Neerlandici 21-1 (2008), 7-8.
2006 'De eerste zelfstandig publicerende vrouwen in de literatuur'. In: Vrouwen in de wetenschap. Gender en letteren. Mannenpraat en vrouwentaal, 8 maart 2006. Bestuursbureau Universiteit Leiden, 22-28.
2005 '"Geestigen zwier van Ovidiaansch briefschryven". Leids Vondel-handschrift'. In: Omslag. Bulletin van de Universiteitsbibliotheek Leiden en het Scaliger Instituut 2005-03, 12.
1999 'Graag scherpe critiek!'. In: Musaeus 6, 4, 5-8. (with Ton van der Wouden)
1998 [review of:] Ton van Strien (ed.), Hollantsche Parnas. Nederlandse gedichten uit de zeventiende eeuw. In: Tijdschrift voor Nederlandse Taal en Letteren.
1996 'Strijden voor heldinnenbrieven: een wedstrijd tussen onderzoekers'. In: Historica 19 (1996), 1, 3-5.
1996 [review of:] Minne- en zinnebeelden. Een bloemlezing uit de Nederlandse emblematiek. In: Tijdschrift voor Nederlandse Taal en Letteren 112 (1996), 4, 388.
1995 [review of:] Klinkend boeket. Studies over renaissancesonnetten voor Marijke Spies. In: De Nieuwe Taalgids 88 (1995), 182-183.
1995 'Brief van Beatrix aan Claus. Onderzoek naar de heldinnenbrief in Nederland'. In: META 29 (1995), 35-39.
University Lecturer
Faculty of Humanities
Centre for the Arts in Society
Oude Nederlandse L&C
Work address
Reuvens
Reuvensplaats 3-4
2311 BE Leiden
Room number 2.22
Contact
No relevant ancillary activities