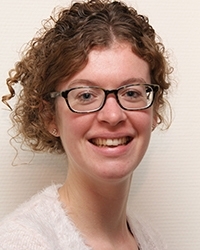 Nienke Bouw
PhD Candidate
Name

J.C. Bouw MSc

Telephone

E-mail

ORCID iD
Nienke Bouw studied Social Studies and worked with children with autism spectrum disorder. She completed the research master's programme 'Developmental Psychopathology in Education and Child Studies' with honors. As part of this programme she completed a clinical internship at the Ambulatorium (Neurospreekuur). Besides her studies she worked as a nurse with people with a intellectual disabilities and as a research assistant on various research projects.
After her master Nienke worked as Junior researcher, and since January 2017 she started her PhD research at the TRIXY study: a study on the neurodevelopmental risks in young children with an extra X or Y chromosome.
Research
Aim of the TRIXY study is understanding risk for psychopathology by focusing on social adaptation and underlying mechanisms in terms of self-regulation with a strong neuroscience approach involving biomarkers (eyetracking and heart rate / skin conductance) and neurocognition.
Registrations
NVO Basis Orthopedagoog
NVO Aantekening Diagnostiek
Relevante links
https://www.linkedin.com/in/nienkebouw/nl
Promotor
Prof. Dr. J.T. Swaab
Co-promotor
Dr. S. van Rijn
CV Nienke Bouw (ENG, PDF)
PhD Candidate
Faculteit der Sociale Wetenschappen
Instituut Pedagogische Wetenschappen
Neuropedagogiek en ontwikk. stoornissen
Work address
Pieter de la Court
Wassenaarseweg 52
2333 AK Leiden
Room number 4.A23
Contact
No relevant ancillary activities