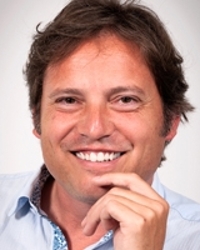 Niels Chavannes
Professor General Practice
Name

Prof.dr. N.H. Chavannes

Telephone

E-mail
Prof. Dr. Niels H. Chavannes MD, PhD, graduated in Medicine at Maastricht University in 1998. He combined his specialization as a Family Physician (2003) with several diagnostic and therapeutic studies in primary care, resulting in his 2005 PhD thesis: "Tracking and treating COPD in Primary Care: An integrated approach to diagnosis and therapy" at the CAPHRI Research Institute of Maastricht University, the Netherlands.
More information about Niels Chavannes
Family Physician
In Rotterdam he was involved in setting up an innovative multidisciplinary health care center in a deprived area since 2003, and worked there as a Family Physician for four years. In 2006 his team received the National Public Health Stimulation Award (2006) for the Kroonluchter Project, implementing a highly successful integrated COPD management program. In 2008, this was followed by two years as a Consultant Family Physician at United Family Hospital in Shanghai, China, combined with an Assistant Professorship at Leiden University Medical Center. In 2010 he returned to the Netherlands as an Associate Professor, coordinating several (inter)national clinical research projects, and teaching on chronic disease management, eHealth and mHealth applicability, therapy adherence, and smoking cessation strategies. In 2015 he was appointed as a Full Professor of Primary Care Medicine, Strategic Chair of eHealth Applications in Disease Management, and in 2016 he became Head of Research at the Department of Public Health and Primary Care, Leiden University Medical Center. He is also appointed as Visiting Professor at the Respiratory Research Institute at Fudan University, Shanghai, China. He has been supervising 23 PhD students, of whom 5 recently have graduated, one cum laude. His multidisciplinary team currently consists of 8 postdocs with clinical, psychological, epidemiological and biomedical expertise, and several projects are embedded in the Medical Delta eHealth Institute, of which Chavannes is one of the founders. He enjoys working as a part-time Family Physician in his residence Zeist, the Netherlands, and is the Vice-Chair of the Dutch Asthma and COPD Advisory Group (CAHAG) and the National Advisor of the Dutch Action Program on Chronic Lung Diseases of the Lung Alliance Netherlands (LAN). In March 2018 he opened the National eHealth Living Lab, a patient-centered multidisciplinary Open Science institute to scale up eHealth initiatives in an evidence-based manner, using innovative eHealth methodology and stimulating public-private partnerships
Academic Career
He published over 190 peer-reviewed articles on topics like eHealth and mHealth, adherence, rehabilitation, asthma, COPD, smoking cessation, self-management and disease management programs in primary care. He contributed to 17 books as first author and 6 books as second or last author. He has been a member of over 60 different committees and raised over € 30 million in funding over the past 15 years.
He co-authored the 2004 ATS/ERS COPD Guidelines, as well as the 2008 ARIA Guidelines and the Dutch Primary Care Standards for Asthma, COPD, and Smoking Cessation (2007, revised in 2015 and 2017) as well as the multidisciplinary Tobacco Dependence and Smoking Cessation Guideline (2016). Together with prof Chunxue Bai of Fudan University he is co-chief editor of the novel KeAi/Elsevier-backed journal Clinical eHealth (http://www.keaipublishing.com/en/journals/clinical-ehealth/). He is the past President of the International Primary Care Respiratory Group (www.theipcrg.org), an Associate Editor of the Nature Partnering Journal Primary Care Respiratory Medicine (http://www.nature.com/npjpcrm/, Impact Factor 2.8) and formerly BMC Family Practice (http://www.biomedcentral.com/bmcfampract, Impact Factor 1.8), former Chair of the General Practice and Primary Care Scientific Group at the European Respiratory Society (www.ersnet.org) and Planning Committee Member of the Global Alliance against Respiratory Diseases at the World Health Organization (www.who.int/gard).
Professor General Practice
Faculteit Geneeskunde
Divisie 3
Public Health en Eerstelijnsgeneeskunde
Visiting professor
Adviseur nationaal actieprogramma chronische longziekten
Vice-voorzitter CAHAG
Voorzitter