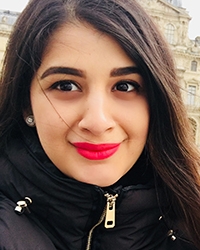 Neha Gauhar
External PhD candidate
Name

N.A. Gauhar

Telephone
Neha Gauhar is an external PhD candidate at the Van Vollenhoven Institute.
Title Research
The role of the informal justice system in perpetuating and legitimising violence against women and the girl child in Pakistan
Neha Gauhar is an external PhD candidate at the Van Vollenhoven Institute. Her research focuses on the customary justice system in Pakistan and its interaction with the state justice system. It investigates pragmatic avenues of developing legal strategies of reforming the informal system to ensure that decisions reached by members of the informal system are compatible with modern human rights standards and ultimately refrain from directly or indirectly perpetuating and endorsing violence against the girl child.
Neha holds an LLB (hons) from Cardiff University and LLM in Human Rights, Conflict and Justice with a distinction from the School of Oriental and African Studies (SOAS). She has worked at AGHS Legal Aid Cell, with human rights lawyer Asma Jehangir and her legal team on a wide range of issues involving women, children and minorities. Neha has also worked as Lead Researcher and Advocacy Coordinator at Community Appraisal and Motivation Programme. As part of this role, she co-wrote a comparative research study titled 'Understanding Justice Systems of Khyber Pakhtunkhwa, FATA and Balochistan, the Pakhtun perspective' and also authored a national level research study titled 'Honour Crimes in Pakistan: Unveiling Reality and Perception'. Furthermore, Neha worked as a Teaching Fellow at the Lahore University of Management Sciences where she conceptualized, developed and taught courses that included; Human Rights, Introduction to Legal Reasoning and Gender, Justice and Law.
External PhD candidate
Faculteit Rechtsgeleerdheid
Instituut voor Metajuridica
Van Vollenhoven Instituut