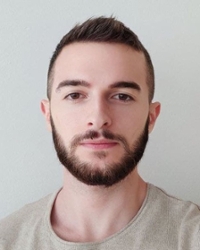 Mirko Forastiere
PhD candidate
Name

M. Forastiere

Telephone

E-mail
Mirko started as a PhD researcher at the department of Environmental Biology in November 2022.
Professional experience
Mirko received his BSc diploma in Chemistry in 2020 at the University of Padua (Italy). In his thesis he focused on the effects and the disposal of a common organophosphate pesticide. He received his Msc degree in Evolutionary Biology in 2022 at the same University, dedicating his master's thesis to assessing the role of Chondrichthyes in the Mediterranean Sea trophic network.
Research Topic
Mirko's current project aims to assess the effects of pesticides on the insects populations, and consequently to show the impact on trophic relationships and also potentially on human activities.
PhD candidate
Science
Centrum voor Milieuwetenschappen Leiden
CML/Environmental Biology
Work address
Van Steenis
Einsteinweg 2
2333 CC Leiden
Contact
No relevant ancillary activities