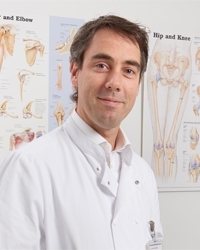 Michiel van de Sande
Professor Orthopaedics
Name

Prof.dr. M.A.J. van de Sande

Telephone

E-mail
Michiel van de Sande, currently works as a Professor in Orthopedic (paediatric) oncology in the Leiden University Medical Center (LUMC) and as a pediatric orthopedic Surgeon the Princes Maxima Center for paediatric oncology in Utrecht. He surgically treats paediatric, AYA and adult patients with bone and soft tissue tumors. His surgical Specialty focusses on the treatment of pediatric, AYA and adult patients with Bone and soft tissue sarcomas and pediatric orthopedics (oncology and limb reconstruction). This combination offers the opportunity to apply the limb reconstruction techniques from orthopaedic oncology in pediatric orthopaedics: e.g. rotationplasty for congenital PFFD, Free and transferred vascularised Fibula graft reconstruction of upper and lower extremities for congenital / traumatic deformity of the extremities, limb length discrepancy and joint reconstruction in children with intramedullary nails and growing tumor prostheses. He is a board member of - Peadiatric Orthopedic working group of the Dutch Orthopedic Society - Orthopedic Oncology working group of the Dutch Orthopedic Society - Dutch Sarcoma Group - Co-chairman of the Tumor Study group EPOS - EuroEwing Consortium Executive Group
More information about Michiel van de Sande
Michiel van de Sande, currently works as a Professor in Orthopedic (paediatric) oncology in the Leiden University Medical Center (LUMC) and as a pediatric orthopedic Surgeon the Princes Maxima Center for paediatric oncology in Utrecht. He surgically treats paediatric, AYA and adult patients with bone and soft tissue tumors.
His surgical Specialty focusses on the treatment of pediatric, AYA and adult patients with Bone and soft tissue sarcomas and pediatric orthopedics (oncology and limb reconstruction).
This combination offers the opportunity to apply the limb reconstruction techniques from orthopaedic oncology in pediatric orthopaedics: e.g. rotationplasty for congenital PFFD, Free and transferred vascularised Fibula graft reconstruction of upper and lower extremities for congenital / traumatic deformity of the extremities, limb length discrepancy and joint reconstruction in children with intramedullary nails and growing tumor prostheses.
He is a board member of
- Peadiatric Orthopedic working group of the Dutch Orthopedic Society
- Orthopedic Oncology working group of the Dutch Orthopedic Society
- Dutch Sarcoma Group
- Co-chairman of the Tumor Study group EPOS
- EuroEwing Consortium Executive Group
Orthopedic oncology
Within the cancer and pathogenesis research line; orthopedic oncology focusses on (inter)national collaborative studies; multicenter studies on giant cell tumors of the joint and bone, soft tissue sarcomas, chondrosarcomas, adamantinoma, Osteo- and Ewing Sarcoma.
Michiel van de Sande has published more than 100 peer reviewed papers and book-chapters; His research is funded by several scientific grants; e.g. the Dutch Cancer Fund (KWF), Alpe-D'huZes, Bontius Stichting and Team Westland.
Academic career
Michiel van de Sande studied Medicine at the University of Utrecht and trained as an orthopedic surgeon and did his PhD research at the University of Leiden. The title of his dissertation (2008) is "Rotator Cuff Degeneration in the Reumatoid Shoulder". Van de Sande then specialized further in oncological Orthopedics at the LUMC in Leiden and the Nuffield Medical Center in Oxford. He was appointed professor of Orthopedics at the Leiden University Medical Center in May 2020.
Professor Orthopaedics
Faculteit Geneeskunde
Divisie 1
Orthopedie
Chair / Boardmember and organisor of webbin
Bestuurslid, bestuursactiviteit voor de stichting DSG
Bestuurslid, bestuursactiviteit voor de stichting WeBOT van de NOV
Providing Medical background and Reserach advise for clinical trials concerning anti-CSFl in TG
Providing Medical background and Reserach advise for clinical trials concerning anti-CSF1 in TGCT Pa