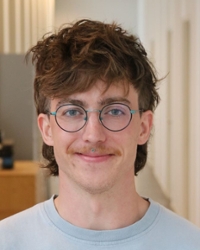 Michael McCabe III
PhD candidate / self funded
Name

Mr. M.D. McCabe III

Telephone

E-mail
Office days
Monday-Friday (and upon request)
Research
My PhD research focuses on pottery, concentrating on Villanovan and Etruscan material culture. My theoretical approaches attempt to provide space to the Local while situating these local developments within larger Regional and 'Global' scales to understand the complex entanglement of the three. I am particularly applying Material Engagement theory, Objectscape analysis, and Globalisation theory to explore the concepts of genealogy, time, memory, aesthetics and the systems of affordances given during the development of style.

My research blends two schools, using cognitive approaches to understand the complex brain-body-environment systems at play on the local level, most notably in an attempt to remove a Cartesian bias in the study of Material culture while using more extensive Regional and 'Global' social-cultural methodological frameworks as a guiding organisational tool to explore these environmental systems on a local level.

Outside of my PhD research, I am involved with multiple international projects and institutions both in teaching and working capacities: IMPERO Project (Supervisor), Mounti Aurunci Project (Researcher), Archeologia Diffusa, The Royal Dutch Institute in Rome (KNIR).

My research on the IMPERO Project (Paganico, IT) pertains to the Late Etruscan–Roman Sanctuary and Vicus at Podere Cannicci, the Necropolis, the Medieval Castellaraccio di Monteverdi as well as the projects additional works at The Sanctuary Area of Diana Umbronensis at Scoglietto and The Manufacturing District at Spolverino, the focus of my work on this project has pertained specifically to understanding the regions longue-durée and changing material landscapes through varying societies and peoples.

Additionally, my research with Archeologia Diffusa and the Mounti Aurunci Project in Sant'Andrea (Campodimele, IT) and Piana del Campo (Itri, IT) has focused again on the longue durée of a region, with particular study in the Roman, Late-antique, and Medieval periods. The Work at Sant'Andrea focuses on the marginal mountainous landscapes, people, transhumance and the transformations of the mountain landscapes of the region in a deeply diachronic and road-related perspective.
Curriculum vitae
For a full CV including a list of my publications, workshops, conferences etc. please feel free to send an email.

Leiden University, Leiden, Netherlands
2023 – Present Ph.D., Archaeology
2021 – 2022 M.A., Cum Laude, Archaeology, Concentration in Mediterranean Archaeology

University at Buffalo (SUNY), Buffalo, United States
2016 – 2019 B.A., Summa Cum Laude, History, Concentration in Mediterranean Archaeology
PhD candidate / self funded
Faculteit Archeologie
World Archaeology
Classical and Mediterranean Archaeology