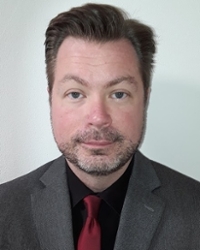 Michael Crandol
University Lecturer Modern Japan Studies
Name

Dr. M.E. Crandol

Telephone

E-mail
Michael Crandol is an assistant professor at the Institute for Area Studies. My teaching and research centers on Japanese film, animation, and popular media, as well as traditions of the monstrous and supernatural in East Asian culture. I specialize in the history of Japanese horror film and am particularly interested in how popular notions of genre are recontextualized across cultural-linguistic borders.
More information about Michael Crandol
Fields of interest
Japanese film

Genre studies

Theories of horror in fiction and film

Traditions of the Fantastic in East Asia
Research
For the past several years my research has focused on the history of B-grade horror films in Japan during the pre-WWII and early postwar eras. Rather than merely applying the Anglophone categorical construct of "horror film" to the cinema of Japan, I examine the Japanese discourse of kaiki eiga ("strange" or "bizarre" cinema) to reveal how popular, transnational film genres are recontextualized across cultural-linguistic divides. In the case of Japanese kaiki cinema, this results in a transcultural synergy that sees East Asian traditions of the strange, bizarre, and otherworldly fused with the style and conventions of Hollywood and European horror. My work also brings attention to the role of forgotten or neglected filmmakers in the creation of a Japanese horror film aesthetic, including Japan's first monster-movie star, Suzuki Sumiko, and director Nakagawa Nobuo.
Currently I am preparing to undertake a new research project that will examine the recent trend in Japanese and Hollywood cinema of adapting classic works of animation to live-action. As these "live-action" productions often rely extensively on the use of computer-generated animated imagery, such works invite us to reconsider theories of animation's place in film studies as well as the shifting popular discourse around realism and cinema.
CV
PhD, University of Minnesota (Asian Literatures, Cultures, and Media, 2015)
MA, University of Minnesota (Asian Literatures, Cultures, and Media, 2011)
BA, College of William and Mary (English and East Asian Studies, 2007)
Grants and awards
Doctoral Dissertation Fellowship, University of Minnesota, 2013-2014

Japanese Studies Fellowship, Japan Foundation, 2012-2013

Foreign Language Area Studies (FLAS) Fellowship, U.S Department of Education, 2009-2010
University Lecturer Modern Japan Studies
Faculty of Humanities
Leiden Institute for Area Studies
SAS Japan
No relevant ancillary activities