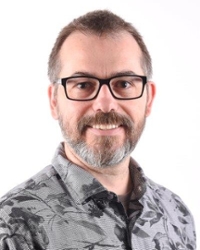 Mark Westmoreland
Associate Professor
Name

Dr. M.R. Westmoreland

Telephone

E-mail

ORCID iD
Short CV
Mark R. Westmoreland coordinates the Visual Ethnography master specialisation at the Institute of Cultural Anthropology and Development Sociology of Leiden University. He previously served as editor of Visual Anthropology Review and now spearheads the Writing with Light curatorial collective for ethnographic photoessays. Prior to joining Leiden University, he taught at the University of Texas at Austin, the American University in Cairo, and Stockholm University. He is an award-winning filmmaker and has published widely in both scholarly journals and art catalogues.
Research
Westmoreland has expertise in visual ethnography and contemporary Arab visual culture, with particular research interests in the interface between sensory embodiment and media aesthetics in on-going legacies of contentious politics. His work explores the production of alternative visualities in the contemporary Middle East as crucial and generative sites for addressing recurrent political violence and enacting new conceptual frameworks for understanding the region. In this vein, his current book project, Catastrophic Images, shows how experimental documentary practices play a crucial role in addressing recurrent political violence in Lebanon. And as a co-recipient of a research grant from the Swedish Foundation for Humanities and Social Sciences, his new project focuses on the cultivation of radical political aesthetics and the generative potential of video activism in the Middle East.
With regard to visual ethnography, his work explores the epistemological possibilities and productive frictions at the intersection between art, activism, and ethnography. He thus aspires to combine the tradition of ethnographic filmmaking with new digital practices in order to cultivate interdisciplinary and socially engaged practice-based visual research methods.
Grants
Riksbankens Jubileumsfond Project Research Grant, Co‐Applicant Swedish Foundation for Humanities and Social Sciences (2014, €600,000)
Visual Methodologies Workshop, Cairo, Egypt SEPHIS South‐-South Exchange Programme (2011, US$50,074)
Associate Professor
Faculteit der Sociale Wetenschappen
Culturele Antropologie/ Ontw. Sociologie
No relevant ancillary activities