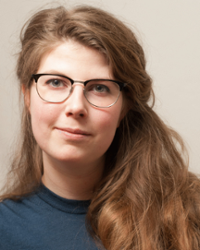 Louise Friis
PhD candidate
Name

L.S. Friis MA

Telephone

E-mail

ORCID iD
Louise Friis is a PhD student at the Centre for Linguistics.
Fields of interest
Within the broader field of Indo-European linguistics, I am particularly interested in matters concerning the Anatolian and Tocharian branches, the phylogeny of the Indo-European language family in general, and topics in Proto-Indo-European morphology, especially the verbal system.
Research
My research focuses on the phylogenetic position of Tocharian within the Indo-European language family as a part of the ERC-project "The Tocharian Trek: A linguistic reconstruction of the migration of the Tocharians from Europe to China" led by dr. Michaël Peyrot. During my PhD project, I will investigate whether we can determine when the Tocharian branch split off from the Indo-European family tree through linguistic means. This investigation will focus on finding developments in morphology, phonology, and lexicon that both include and exclude Tocharian in order to see whether Tocharian shows special affinity to other branches or possibly signs of early separation. It will also include a study of the methods used to determine linguistic family trees. Combined with evidence of contact between Tocharian and other languages and language families, as well as results from extra-linguistic fields such as archa eology and genetics, my research aims at informing our understanding of the prehistoric migrations of the Tocharians.
CV
2019 → PhD candidate, The Tocharian Trek, Leiden University
2016–2018 MA in Indo-European Linguistics, University of Copenhagen
2017 Visiting student at the Department of Linguistic, Harvard University
2012–2016 BA in Indo-European Linguistics, University of Copenhagen
PhD candidate
Faculty of Humanities
Leiden Univ Centre for Linguistics
LUCL VIET
Work address
Reuvens
Reuvensplaats 3-4
2311 BE Leiden
Room number 0.80
Contact
No relevant ancillary activities