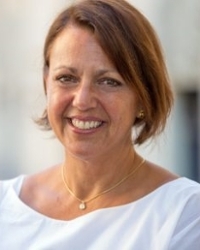 Laurie Cosmo
University Lecturer
Name

Dr. L.K. Cosmo Ph.D.

Telephone

E-mail
Laurie Cosmo is a university lecturer at the Leiden University Centre for the Arts in Society and a member of the research group in Museums, Collections and Society.
More information about Laurie Cosmo
Laurie Kalb Cosmo has been a member of the art history faculty of Temple University Rome for twelve years before joining the University of Leiden Research Group in Museums, Collections and Society, and previously taught at Tufts University and University of California, Los Angeles. She has been a curator and administrator at museums in the United States, including Museum of Fine Arts, Boston, Craft and Folk Art Museum Los Angeles and Peabody Essex Museum, and a Research Associate at Peabody Museum at Harvard University. The recipient of a Fulbright grant in Malaysia and Smithsonian Institution dissertation fellowship,Laurie has been a board member of the ICOM international committee on Museums of Ethnography (ICME) and earned my Ph.D. and M.A. from the University of Pennsylvania and B.A. from Vassar College.
Fields of interest
Modernism

Art and Politics

Museum History and Theory

20th century Decorative and Applied Arts of the US and Europe
Research
Current research focuses on the emergence of private museums in Europe in the 21st century. I am beginning a study of the 1930s collecting history of the Kunstmuseum Den Haag.
Teaching activities
Laurie Kalb Cosmo lectures on the history of museums and collecting in Europe, national museums and the formation of identity, and museums and memory. She is a member of the Museums, Collections and Society research group and an Affiliated Scholar at the Centre for Global Heritage and Development at Leiden-Delft-Erasmus Universities.
Key publications
"Absence and Belonging in Museums of Everyday Life. Current Solutions for Exhibiting Europe. Review of Anniversary Conference at MEK Berlin." ICME (International Committee for Museums and Collections of Ethnography) ICOM News. Issue 90, August 2020, pp. 6-13. https://drive.google.com/file/d/1pZo5nSErKuBARZT4-NL3v6ojO4IW1ZGw/view
"Defining Self by Collecting the Other: Mussolini's Museums at the World's Fair Site in EUR." Visualizing Otherness in Modern Italy (XIX-XX Century), edited by Eva-Maria Troelenberg in collaboration with Melania Savino, Mitteilungen des Kunsthistorischen Institutes in Florenz, LIX. Band – 2017, Heft 1, pp. 125-147. https://www.jstor.org/stable/26397459
"Nation Building and Culture Display in Malaysian Museums." In Museum Anthropology, v. 21, no. 1, (Spring 1997).
Crafting Devotions: Tradition in Contemporary New Mexico Santos. University of New Mexico Press, 1994. (1996 Ralph Emerson Twitchell Award for Significant Contribution to History).
University Lecturer
Faculty of Humanities
Centre for the Arts in Society
KG Musea en Collecties
Work address
Arsenaal
Arsenaalstraat 1
2311 CT Leiden
Room number A1.06
Contact
No relevant ancillary activities