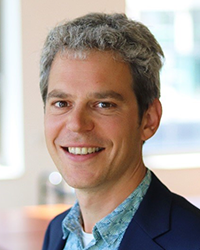 Laurens Hessels
Name

Prof.dr. L.K. Hessels Ph.D.

Telephone

E-mail
Laurens Hessels works as a Professor by special appointment of Social Value of Science at the Centre for Science and Technology Studies of Leiden University.
Short CV
Laurens completed his PhD in 2010 at Utrecht University with a study into how university researchers deal with the practical applications of their work. He has also worked as a researcher with KWR Watercycle Research Institute and as a policy advisor at the Ministry of Education, Culture and Science.
Research
Laurens conducts research into the processes and mechanisms of knowledge valorization and into methods and indicators for evaluating valorization. He also works as research quality coordinator at the Rathenau Instituut, where he carries out research on science and innovation policies.
Faculteit der Sociale Wetenschappen
CWTS
Professor Science and Technology Studies
Faculteit der Sociale Wetenschappen
CWTS