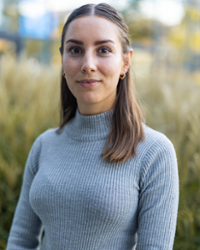 Kornelia Serwatowska
Development technician
Name

Ing. K.J. Serwatowska MSc

Telephone

E-mail
Kornelia obtained her 5 year Master's degree in Biotechnology with a major in nanobioengineering from the West Pomeranian University of Technology at the Faculty of Biotechnology and Animal Husbandry in Poland. She started as lab technician at CML in August 2022.
Professional experience
Kornelia took part in the ERASMUS+ program and did a one-year internship the Leiden University at the Institute of Environmental Sciences, where she investigated the impact of dissolved organic matter on the toxicity of nanomaterials to Daphnia magna. She focused on advanced metallic nanomaterials, how the dissolution kinetics relate to particle size and if the toxicity of hybrid materials corresponds with mixture toxicity. During her internship, she took part in the research on the influence and fate of nano and microplastics on aquatic ecosystems conducted in the Living Lab at Leiden.
She did an internship at the microbiology laboratory at the company Polcargo International during her studies. She was performing a quality test on water, food, and animal feed samples. She took part in the IASTE project at the Manipal Institute of Technology in India. Her research aimed to develop an optimal procedure for culturing Lactobacillus spp. Kornelia was working on the production of hydrolytic enzymes by using submerged and solid-state fermentative bacteria. Her master's thesis was written in a collaboration with Smart Nanotechnologies S. A. and investigated the effectiveness of disinfectants containing nanosilver on limiting the growth of selected bacteria.
Development technician
Science
Centrum voor Milieuwetenschappen Leiden
CML/Environmental Biology
Work address
Van Steenis
Einsteinweg 2
2333 CC Leiden
Room number A308
Contact
No relevant ancillary activities