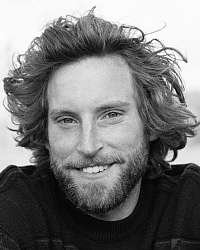 Kevin Groen
PhD candidate
Name

K. Groen MSc

Telephone

E-mail

ORCID iD
Kevin Groen is a PhD candidate at the CML focussing on unraveling the effect of human impacts on predator-prey interactions, using quantitative diet (DNA) analyses.
Professional Experience
Kevin Groen has a B.Sc. degree in Life Science & Technology from the Technical University of Delft and Leiden University with a chemistry minor from Glasgow University.
Furthermore, he holds an MSc degree in Biology, specializing in the field of conservation biology and ecology, from Leiden University. His first M.Sc. research project, at the Institute of Environmental Sciences, Leiden, focused on linking bee distribution to landscape configuration using GIS, for which he was awarded the Stans prize in 2015. The second research project he conducted took place in the Indian part of the Himalaya (Ladakh), in collaboration with Wageningen University and the Snow Leopard Conservancy India Trust. Where he surveyed macroinvertebrates and bird diversity along a high altitudinal gradient, to determine the food availability for birds using the Central Asian flyway. At the start of 2017, Kevin also worked as a research assistant to update the Gene technology practical at the Leiden Institute of Chemistry.
Research topic
Kevin's Ph.D. at the CML will focus on unraveling the effect of human impacts on predator-prey interactions, using quantitative diet (DNA) analyses.
Publication
Jeremy A. Miller, Menno Schilthuizen, Jennie Lilliendahl Burmester, Lot van der Graaf, Vincent Merckx, Merlijn Jocqué, Paul Joseph Antonius Kessler, Tom Maurice Fayle, Thijmen Breeschoten, Regi Broeren, Roderick Bouman, Wan-Ji Chua, Frida Feijen, Tanita Fermont, Kevin Groen, Marvin Groen, Nicolaas Johannes Cornelis Kil, Henrica Allegonda de Laat, Michelangelo Sergio Moerland, Carole Moncoquet, Elisa Panjang, Amelia Joyce Philip, Rebecca Roca-Eriksen, Bastiaan Rooduijn, Marit van Santen, Violet Swakman, Meaghan N. Evans, Luke J. Evans, Kieran Love, Sarah H Joscelyne, Anya Victoria Tober, Hannah F. Wilson, Laurentius N. Ambu, Benoit Goossens (2014).
Dispatch from the field: ecology of ground-web-building spiders with description of a new species (Araneae, Symphytognathidae). Biodiversity Data Journal, (2), e1076. Advance online publication.
PhD candidate
Science
Centrum voor Milieuwetenschappen Leiden
CML/Environmental Biology
Work address
Van Steenis
Einsteinweg 2
2333 CC Leiden
Room number A312
Contact
Groen K., Trimbos K.B., Blaauw A.I., Bodegom P.M. van, Hahne J., Jacob J. & Hein S. (2022), Establishment of a faecal DNA quantification technique for rare and cryptic diet constituents in small mammals, Molecular Ecology Resources 22(6): 2220-2231.
Groen M. & Groen K. (22 June 2020), Gewapend met stoepkrijt willen broers Marvin en Kevin zorgen dat we 'onkruid' meer waarderen Interviewed by for Duurzaamheid en Vernieuwing [interview].
Groen K. (7 October 2017), Gidsen in de stadse jungle, biologentweeling wekt verwondering voor stadsecologie. Interviewed by Hoog, A. van 't for Bionieuws [interview].
Groen K. (16 September 2017), 'Groene tweeling' krijgt eigen tv-show over stadsnatuur. Interviewed by Schie M. van for Algemeen Dagblad [interview].
Nature education/ Nature experiences/ Television series on Urban Nature