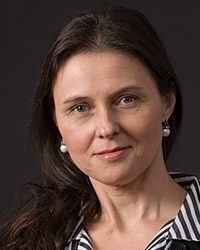 Katarzyna Cwiertka
Professor of Modern Japan Studies
Name

Prof.dr. K.J. Cwiertka

Telephone

E-mail

ORCID iD
Kasia Cwiertka is a professor of Modern Japan Studies at the Leiden University Institute for Area Studies.
Research
Field: Material Culture and Consumption, History and Anthropology of Food, Anthropology of Colonialism and War, Globalisation
Area: Japan/Korea/East Asia
Supervision
My area of expertise covers consumption, food and waste in East Asia, in both contemporary and historical contexts. I particularly welcome MA and PhD projects that focus on twentieth century Japan.
Teaching activities
Culture: East Asia (BA International Studies)
Asia Through Consumption (MA in Asian Studies)
Publications
Books:
2016. (with E. Machotka) Too Pretty to Throw Away: Packaging Design from Japan. Kraków: Museum of Japanese Art and Technology Press.
2016. (with Miho Yasuhara) Himerareta washokushi. Tokyo: Shinsensha
2013. Food and War in Mid-Twentieth-Century East Asia (editor). Farnham: Ashgate.

2012. Critical Readings on Food in East Asia (editor). Leiden: Brill.

2012. Cuisine, Colonialism and Cold War: Food in Twentieth Century Korea. London: Reaktion Books.

2006. Modern Japanese Cuisine: Food, Power and National Identity , London: Reaktion Books/University of Chicago Press.

2006. Kaiseki Recipes: Secrets of Japanese Cuisine (co-author with Akira Oshima), Bruges: Stichting Kunstboek (English and Dutch editions).

2003. Yamazato: The Kaiseki Cuisine, Hotel Okura Amsterdam (co-author with Patrick Faas and Akira Oshima), Brugge: Stichting Kunstboek (English and Dutch editions).

2002. Asian Food: The Global and the Local (co-edited with Boudewijn Walraven), London: RoutledgeCurzon / Honolulu: University of Hawaii Press.

Publications available online:

(see 'Curriculum vitae' for the full list of publications)

2011. Inaugural Lecture, Leiden University (Leiden, 11 November).

2007. 'War, Empire and the Making of Japanese National Cuisine', Japan Focus: An Asia Pacific e-journal.

2005. 'Militarization of nutrition in wartime Japan', IIAS Newsletter 38: 15.

2004. Daejanggeum・and the Gentrification of Korean Food Culture' Korea Foundation Newsletter 13 (1).
Professor of Modern Japan Studies
Faculty of Humanities
Leiden Institute for Area Studies
SAS Japan
No relevant ancillary activities