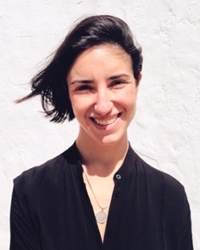 Julia Morandeira Arrizabalaga
Lecturer / guest
Name

J. Morandeira Arrizabalaga MA MPhil

Telephone

E-mail
Julia Morandeira Arrizabalaga is a researcher, teacher, and curator in the fields of culture, art and education⁠.
Her practice is articulated in long-standing projects of curatorial research, which materialise in different formats and gestures that delve into the political and aesthetic implications of structural and organisational cultures which activate forms of institutionality, affective economies and feminist methodologies; the problematisation of the epistemological foundations of eurocentric modernity through the body, the footnote, the sea, the stomach, or other minor and contaminated experiences; among others⁠.
Curriculum Vitae
She is Curator of Post-Academic Program and member of the Management Team at BAK, basis voor actuele kunst, lecturer and coordinator of the course Social and Ecological Activism in the Visual Arts in the minor Creative Strategies for a Society in Change at Leiden University, and thesis coach at the Dutch Art Institute⁠. Morandeira has lectured at numerous places such as the Leiden University (Leiden and The Hague), De Appel Curatorial Program (Amsterdam), the Dutch Art Institute (ArTEZ University, Arnhem), Curatorial Laboratory at the CCE La Paz (Bolivia), Pompeu Fabra University (Barcelona), University of the Basque Country-EHU (Bilbao), Goldsmiths College (London), Notre Dame University (Indiana, USA), SomethingYouShouldKnow (Paris), Nottingham Contemporary, Serpentine Gallery (London), Tabakalera (Donostia-San Sebastián), Jeu de Paume (Paris) or TEOR⁠/Ética (San José, Costa Rica), among others⁠.
Lecturer / guest
Faculty of Humanities
Academie der Kunsten
No relevant ancillary activities