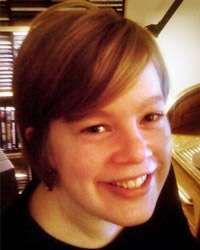 Julia Krul
Assistant Professor
Name

Dr. J.H.E. Krul

Telephone

E-mail

ORCID iD
Julia Krul is University Lecturer in ancient Sumerian at Leiden University. She obtained her PhD in 2014 from the WWU Münster. As a researcher she specialises in the religion, cultic and magic rituals, scholarship, literature, and cultural history of ancient Mesopotamia. She has published several articles on diverse aspects of religious and intellectual life in the cities of Uruk and Babylon in the Hellenistic period (ca. 300-100 BC). Her PhD thesis was published in 2018 as The Revival of the Anu Cult and the Nocturnal Fire Ceremony at Late Babylonian Uruk (CHANE 95, Leiden/Boston: Brill). As a lecturer at Leiden University she has taught a variety of courses on ancient West Asian history and religion and Akkadian language tutorials. Currently she is lecturer in ancient Sumerian and teaches the BA courses 'Introduction to Sumerian', 'Sumerian Texts: Gudea', and 'Sumerian Literary Texts' and the MA courses 'Tutorial Sumerian', 'Sumerian Literature: Gudea' and 'Advanced Sumerian'.
More information about Julia Krul
Fields of interest
religious, cultural, and intellectual history of ancient Mesopotamia

ritual studies

comparative approaches to ancient West Asian history
Research
Julia Krul's current research project traces the development of the fields of ritual expertise of the āšipu and the kalû priests and studies the negotiation of religious authority between them across the great empires of the first millennium BC (ca. 800-100 BC).
Grants and awards
Gerda Henkel Stiftung postdoctoral scholarship for project "Deciphering the 'kalû': ancient Near Eastern religious practice and the institutional longue durée" (2016-2019)




ṣ

ēri at Late Babylonian Uruk', JANER 18-1 (2018) 48-85)

International Association of Assyriology award for Best First Article Written After the PhD (for '"Prayers For Him Who Is Unable to Make Offerings": The Cult of Bēlet-
Assistant Professor
Faculty of Humanities
Leiden Institute for Area Studies
SMES Assyriologie
No relevant ancillary activities