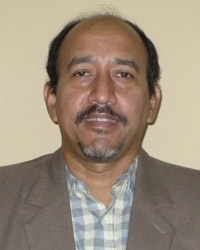 Jorge Ulloa Hung
Guest
Name

J. Ulloa Hung MA

Telephone

E-mail
BA in History; Magister in Caribbean Studies (Universidad de Oriente, Cuba) and PhD in Archaeology (Leiden University)
Postdoctoral researcher in the program ERC Synergy-NEXUS 1492. New World Encounters in a Globalizing World. Head of Archaeology Department in Museo del Hombre Dominicano and Professor of Instituto Tecnológico de Santo Domingo. Dominican Republic.
Founder and coordinator of the scientific publication El Caribe Arqueológico . His specialization is in Archaeology and History of the Greater Antilles, remarkable in Cuba and Hispaniola. Special interest in issues such as: Indigenous pottery, cultural landscapes, pre and post Colombian interactions in the region of the first colonial encounter of the Americas.
Received research grants from National Geographic and Smithsonian Institutions, and participated in the Communicating Communities project developed by the group of Caribbean Studies at the Leiden University.
Research results have been published in articles of international journals and books, the principal are: Santiago de Cuba 400 years of historiography (2000); Santiago de Cuba City Revisited (2001); Early Pottery in the center of eastern Cuba (2002) (with Roberto Valcárcel); Archaeological excavations at the site The Church (2004) (with Elpidio Ortega and Gabriel Atiles); A look at the pre-Columbian Caribbean (2005); Dialogues in Cuban Archaeology (2005) (with others Cubans and Americans researchers); José Juan Arrom and finding our roots (2011); The voices and echoes. Generation Gap and isolation in Dominican University (2012) (with José Fernández Pequeño); The Oxford Handbook of Caribbean Archaeology (with other researchers of Caribbean Archeology); Archaeology in the Northwest of Hispaniola. Landscapes, ceramics and interactions (2014); Pre-Columbian Archeology in Cuba and Argentina: sketches from the periphery (2014).
Member of the Academy of Sciences of the Dominican Republic and the International Association of Caribbean Archaeologists (IACA).