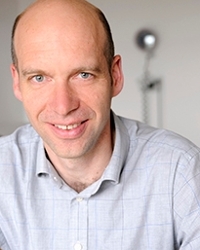 James Hardwick
Professor Gastroenterology and Hepatology, in particular the early detection and treatment of colorectal tumours
Name

Prof.dr. J.C.H. Hardwick

Telephone

E-mail
James Hardwick is Professor of Gastroenterology and Hepatology, in particular the Early Detection and Treatment of Colorectal Tumours.
Gastroenterology and Hepatology
Colon cancer affects one in twenty in western populations and is the most frequent cause of cancer-related death after lung cancer. In his research he is looking at new methods to detect colon cancers and to remove them using organ sparing techniques. He is also investigating the molecular mechanisms underlying the development of colorectal cancer.
Academic career
James Hardwick received his initial training in gastroenterology and general internal medicine in the UK. In 1999 he moved to Amsterdam where he was awarded a PhD with the thesis entitled "Molecular Mechanisms in Colon Cancer" on 25 September 2002. His research interests include the molecular biology of colorectal cancer initiation and progression and new endoscopic techniques for the detection and removal of neoplastic lesions in the colon. His clinical interests are colorectal cancer screening, Endoscopic Mucosal Resection and Endscopic Submucosal Dissection of advanced intestinal neoplasia. In 2007 he moved from the Academic Medical Centre in Amsterdam to the Leiden University Medical Centre where he was appointed Professor of Gastroenterology in 2014 holding his inaugural lecture entitled "Colon Cancer through the looking glass" on 18 September 2015.
Professor Gastroenterology and Hepatology, in particular the early detection and treatment of colorectal tumours
Faculteit Geneeskunde
Divisie 2
Maag-, Darm- en Leverziekten
No relevant ancillary activities