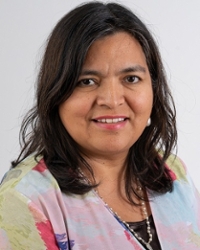 Irma Mosquera Valderrama
Associate Professor
Name

Dr. I.J. Mosquera Valderrama

Telephone

E-mail
Dr. Irma Johanna Mosquera Valderrama is Associate Professor of Tax Law at Leiden University, the Netherlands.

She has been recently awarded a prestigious ERC starting grant to carry out research from 2018-2022 on a New Model of Global Governance in International Tax Law Making (GLOBTAXGOV). She will be investigating the implementation of BEPS Minimum Standards in 12 countries in the African, Latin American, European and Asian region.
More information about Irma Mosquera Valderrama
Short bio
In 2007, Irma Mosquera obtained her PhD (cum laude) at the University of Groningen, the Netherlands. Her areas of expertise are international tax law and comparative tax law in developed and developing countries and more recently exchange of information including taxpayers' rights and safeguards in exchange of information, and BEPS related issues in developing countries.
Irma Mosquera is a frequent speaker on tax law issues at several conferences and seminars in Europe, Latin America and the United States. She has been a guest lecturer at several universities in Colombia, South Africa and in the United States. Irma Mosquera has published several articles in peer-reviewed journal such as the World Tax Journal and Intertax and non peer-reviewed journals such as Tax Notes International, IBFD Bulletin and other journals in Italy, Colombia and Spain.
She is a member of the International Fiscal Association and the Dutch Fiscal Association and a member of the international research project entitled "Sustainable Tax Governance in Developing Countries through Global Tax Transparency", financed by the Research Council of Norway.
She speaks Dutch, English and Spanish, her native language. She also has passive knowledge of French.
Education
PhD, University of Groningen, the Netherlands(2007), thesis Leasing and legal culture: Towards consistent behaviour in tax treatment in civil law and common law jurisdictions (Cum laude)
Master of Laws, LL.M. Comparative Law of the European Union, Rey Juan Carlos University, Spain (2000).
Bachelor of Laws, LL.B. Autónoma de Bucaramanga University, Colombia (1998). Lawyer graduated with thesis Magna Cum laude.
Languages
Fluent in English, Dutch and Spanish (native speaker). Passive knowledge of French.
Awards and scholarships
ERC Starting Grant Research Project GLOBTAXGOV (amount EUR 1,3 million approximately). February 2018-January 2023
Cum laude distinction for PhD dissertation and defence. March 2007
Fulbright scholarship award (amount USD 4000) to carry out research at New York University (September, October 2005) and the University of Florida (November, December 2005), the United States
Magna Cum laude distinction for Bachelor of Laws' dissertation. June 1998
Lectures given abroad
University of Cape Town, South Africa
International Taxation to students in LLM Programme 13th to 17th February 2017
University of Florida, the United States
Taxes and Development Course, School of Law, April 2008
Externado University, Bogota, Colombia
International Tax Law to students in LLM Programme November 2006
Javeriana University, Bogota, Colombia
Comparative Tax Law and International Tax Law to students in Tax Specialization Programme. December 2005
Research activities
June 2016-present: Alternative Resolution of Transnational Tax Disputes and Administrative Co-Operation. Models for an Institutional Architecture from a European Perspective (EUDISCOOP) This project aims to contribute to the reshaping of the administrative co-operation and dispute settlement mechanisms,
June 2013 - present: Sustainable Tax Governance in Developing Countries through Global Tax Transparency (DeStaT). This project focuses on sustainable tax governance in developing countries in order to increase tax revenue and prevent capital flight in particular to tax havens.
Short summary of my research activities
In my research, I began with comparison of tax law systems within Latin America. Thereafter, I carried out comparative law research in tax and investment policies in Colombia, Surinam and Chile and in countries of the Sub-Saharan African Region (Mosquera, I.J. Regulatory Framework for Land Acquisition in Sub-Saharan Africa. Background paper European Report on Development 2012). I have also carried out comparative studies and interdisciplinary analysis of current problems from a tax, investment and trade perspective in order to find common solutions. This knowledge has also allowed me to share experiences among disciplines, for instance on the fragmentation and lack of commitment by countries to regional and multilateral initiatives and on the legitimacy of international tax, investment and trade negotiations.
Since 2010, I do research into international tax cooperation from the perspective of the OECD and the EU. I have written several articles on exchange of information taking into account the legitimacy of the initiatives in exchange of information with respect both to developing countries and the taxpayers. Some of these articles were also addressed in conferences (Colombia – February 2016; The Netherlands July 2015). More recently, and due to the work carried out in the Sustainable Tax Governance in Developing Countries through Global Tax Transparency (DeStaT) project financed by the Norwegian Research Council, I have been investigating the practical issues of the implementation of frameworks to deal with exchange of information and aggressive tax planning in the participating countries (i.e. Colombia, Brazil, Uruguay and South Africa). One of the working papers (Tools Used by Developing Countries to Counteract Aggressive Tax Planning in the Light of Transparency) is currently available at the website of the DeStaT Project
My experience in legal transplants, legal culture and developed vs. developing countries has allowed me to contribute to the public debate in the setting of international tax standards by international and supranational organizations. This knowledge has also allowed me to develop other articles where the analysis of legitimacy and feasibility of the multilateral initiatives to exchange information and to deal with base erosion and profit shifting have been critically assessed (see list of publications).
My ERC research project GLOBTAXGOV will analyse the legal transplant of the BEPS four minimum standards in light of the differences in tax systems and tax cultures. This follows the line of research in my PhD. My research project will also analyse the legitimacy and feasibility of the OECD-BEPS project and the EU initiatives in respect of OECD/ EU countries vs. non-OECD/ non-EU countries. This follows my recent work on the legitimacy of the OECD multilateral initiatives in exchange of information and of the BEPS Project (See Mosquera I.J. Democratic Legitimacy and the Making of International Tax Law: The Challenges of Multilateralism. World Tax Journal, Vol. 7 Issue 3, October 2015, IBFD Publications, October 2015. pp. 343-382. See also Mosquera I.J. Output Legitimacy Deficits and the Inclusive Framework of the OECD/G20 Base Erosion and Profit Shifting Initiative. Bulletin for International Taxation, IBFD Publications, March 2018).
Selection of some invited presentations (most recent 2015-December 2017)
International Tax Conference. Organized by International Fiscal Association IFA Colombia and LEGIS, 22nd and 23 November, Bogota, Colombia (Spanish).
Privacy and Data Protection in Automatic Exchange of Information
Panelist IFA David Tillinghast International Tax Conference. Cross-border tax challenges in the 21st Century'. Koç University Law School, 6th and 7th October 2017, Istanbul, Turkey. Panel Food for Thought: The Challenges Arising from the Multilateral Convention to Prevent BEPS - Answers Unknown?
Article 7 MLI: Prevention of Treaty abuse.
11th Pan-European Conference on International Relations. Barcelona, Spain. 15 September 2017
A dire need for EU Legitimacy in EU Taxation.
Panelist International Fiscal Association X Latin-American Congress. Buenos Aires, Argentina 2 June 2017 (Spanish)
Regulation of undeclared assets. The experience of Colombia.
Associate Professor
Faculteit Rechtsgeleerdheid
Instituut Fiscale en Economische vakken
Belastingrecht
No relevant ancillary activities