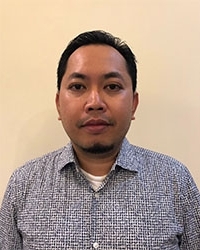 Hertasning Ichlas
External PhD candidate
Name

Drs. H. Ichlas LLM MA

Telephone

E-mail
Hertasning Ichlas has experience as a development consultant and researcher for the European Union office delegation in Indonesia, specializing in environment, peatland, land use, and commodity. He was also a lecturer at the Faculty of Law of Pelita Harapan University, Indonesia. He taught 'State Theory of Law' and 'Law and Development'.

He is interested in Law and Development: lawmaking politics, law and neoliberalism, and anthropology of law. His work explores the politics of the Peatland Restoration in Indonesia and the politics of Omnibus lawmaking in Indonesia, combining socio-legal and political-economic studies.

Herta completed his Bachelor of Law from Gadjah Mada University in 2004 and obtained his master's degree (LL.M) from Pelita Harapan University in 2009, and received his other master's degree (M.A.) in Development Studies majored in Agrarian, Food and Environmental Studies from the International Institute of Social Studies, Erasmus University in 2020.

For his PhD research at Leiden University, he wants to research the Omnibus Lawmaking in Indonesia in relation to the state, power, and neoliberalism legality.
External PhD candidate
Faculteit Rechtsgeleerdheid
Instituut voor Metajuridica
Van Vollenhoven Instituut