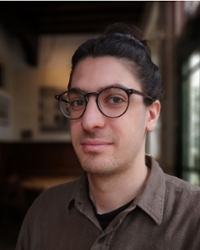 Greg Gkagkalidis
PhD candidate
Name

G. Gkagkalidis MSc

Telephone

E-mail
Greg started as a PhD researcher at the Industrial Ecology department of CML in September 2022 and works on social and wellbeing impact assessment of the circular economy.
Professional experience
Greg received his MSci (Integrated master) as an environmental engineer at Democritus University of Thrace, in Greece, in 2019, where he specialized in wastewater treatment.
Grigorios moved to Gothenburg in Sweden in 2020 where he studied for two years in the Chalmers University of Technology, participating in the master of Infrastructure and Environmental Engineering. Grigorios in his MSc thesis studied how sharing economy contributed to citizen's wellbeing in Gothenburg and whether Degrowth practices would enhance citizen's wellbeing.
Research topic
Greg is working under the FutuRam (Future Availability of Secondary Raw Materials) project, which aims to develop the secondary raw materials knowledge base on the availability and recoverability of secondary raw materials (SRMs) within the EU, with a special focus on critical raw materials (CRMs). FutuRam project will develop three possible futures - scenarios, which vary in the speed of adoption of sustainable measures and policies. Greg's work will focus on assessing the impacts that these different scenarios have on society.
PhD candidate
Science
Centrum voor Milieuwetenschappen Leiden
CML/Industriele Ecologie
Work address
Van Steenis
Einsteinweg 2
2333 CC Leiden
Room number A3.16
Contact
No relevant ancillary activities