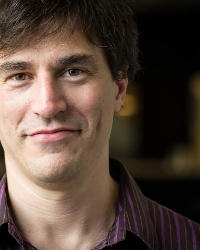 Gabriel Paiuk
PhD candidate / Policy Advisor
Name

G. Paiuk

Telephone

E-mail
Gabriel Paiuk (*1975) is a composer and sound artist whose work focuses on the problematisation of the experience of sound in widespread media.
His work takes the form of sound installations and compositions for traditional instruments and particular loudspeaker setups. Recent works have been presented at Gallery W139 and Sonic Acts Festival in Amsterdam.
His instrumental pieces have been performed internationally by ASKO ensemble, Kammerensemble Neue Musik Berlin, Slagwerk Den Haag, Francesco Dillon, Ekkehard Windrich, Modelo62, Rank Ensemble, Ensemble 306, Kwartludium Ensemble, Quinteto Sonorama and Alexander Bruck. His electronic composition / sound installation Res Extensa was awarded the Gaudeamus composition prize in 2006.
He is currently a member of the faculty staff at the Institute of Sonology (The Hague, NL). He was director of the Center for Advanced Studies in Contemporary Music in Buenos Aires (2009) and taught sound design at the Center for Cinematographic Investigations in Buenos Aires (2004–2009).
In recent years he has articulated his compositional practice with theoretical research, leading to talks and workshops in contexts such as the KASK-School of Arts (Ghent), the Amsterdam School for Cultural Analysis (University of Amsterdam), Master Artistic Research at KABK (co-led with Raviv Ganchrow), HKU Utrecht and to a publication in Organised Sound magazine (Cambridge University Press, UK).
He has regularly collaborated with other artistic disciplines, mainly as stable composer of the La Otra dance company (2001-present), regularly staging works for dance/physical theatre in important theatres and festivals in Buenos Aires.
As a pianist-improviser he collaborated with musicians like Axel Dorner, Jason Kahn, Keith Rowe, Andrea Neumann, Burkhard Beins, Rhodri Davies, Gunter Mueller, Lucio Capece, Robin Hayward, Sergio Merce and others, performing in venues and festivals in Berlin, Brussels, New York, Barcelona, London, Paris, Amsterdam and Lisbon and editing records in diverse specialized labels.
He was curator and producer of many contemporary and experimental music series in Buenos Aires since 2000 until 2009.
*Profile photo credit: Alex Schröder
PhD candidate / Policy Advisor
Faculty of Humanities
Academie der Kunsten
Work address
P.J. Veth
Nonnensteeg 1-3
2311 VJ Leiden
Room number 1.11
Contact