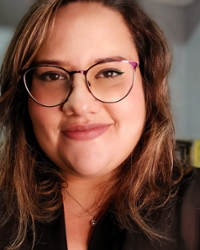 Francianne Dos Santos Velho
External PhD Candidate
Name

F. Dos Santos Velho

Telephone

E-mail

ORCID iD
Fields of interest
Francianne's trajectory is interdisciplinary, and multiculturality and her interests include Portuguese Speaking-World Language and Cultural Studies; Brazilian Cinema and Literature; Postcolonial Studies; New Media and Popular Culture; Gender, Race, and Immigration Theories; Issues of Domesticity, Space and Mobility.
Research
Her current research project, Migrant Domestic Workers in Brazil and the Netherlands: Experiences, Sensibilities, and Narratives in Visual Culture, focus on the whole that racialized, gendered, and migratory colonial history of labor relations plays in the experiences, sensibilities, and narratives of migrant domestic workers in emerging countries as Brazil, but also developed countries as in the Netherlands. It seeks to understand how the appearance and the development of different media types and the involvement of women and domestic laborers in production and the dissemination of knowledge have impacted their communities, identities, and subjectivities.
Teaching activities
Portuguese language; Brazilian literature, film, and cultural studies.
Curriculum vitae
Francianne holds a Teaching degree is in Portuguese and English Language and Literature from the Federal University of Parana, Curitiba, Brazil, a Master of Arts in Latin American Studies from the University of Leiden with an emphasis on Cultural Analysis. She was a research assistant in the HERA project: Night spaces: migration, culture, and integration in Europe (NL), and she also worked in the US as a Portuguese Language and Culture Teaching Assistant at Middlebury College in the Luso-Hispanic Department.
External PhD Candidate
Faculty of Humanities
Centre for the Arts in Society
Latijns-Amerikaanse L&C
Work address
Arsenaal
Arsenaalstraat 1
2311 CT Leiden
Contact
No relevant ancillary activities