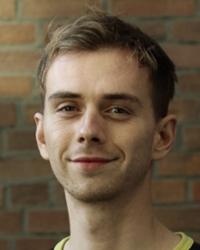 Florian Helmecke
PhD candidate
Name

F. Helmecke MA

Telephone

E-mail
Office days
Monday to Friday
Research
Florian is part of the NWO- funded VIDI project "The Talking Dead. Reconstructing the transmission of information in Corded Ware and Bell Beaker Societies during the 3rd Millennium BC", led by dr. Quentin Bourgeois. The project aims to tackle how two pre-literate societies that never had profound contact with each other over their entire distribution area managed to keep up a highly standardised burial ritual for hundreds of years across the European continent.
Florian's particular research is concerned with the dissemination and transmission of information in Corded Ware burial practices. By using network analysis and similarity measures, he investigates the genesis of 'typical' burial customs within several regions of Central- and Northeast Europe, where rather distinct Corded Ware communities emerged. His research aims at reconstructing the emergence of a 'Corded Ware knowledge economy', which includes the study of potential impacts from preceding burial customs of local (sub)neolithic populations on Corded Ware communities. In addition, potential cultural connections to genetically affiliated Yamnaya groups on the steppe are sought to be investigated.
Curriculum vitae
Florian started his Bachelor in European Archaeologies and Art History at the Martin-Luther-University Halle/Wittenberg, Germany (2015) and completed his Bachelor in Pre- and Protohistoric Archaeology at Hamburg University in 2019. He continued his studies at the Faculty of Archaeology at Leiden University, where he graduated cum laude in 2021 after following the Research Master programme. Throughout his studies, he specialised in the Late Prehistory of Northwest Europe, with a particular focus on burial archaeology. His Bachelor thesis was concerned with an analysis of an old-excavated and hitherto unprocessed urnfield site in Bliedersdorf (Lower-Saxony). In his Master thesis, he investigated burial sites of urnfield communities in Western Germany and their perception as socialising landscapes, pointing out a widely observable spatial affiliation with the perceivable past in place. He showed that urnfields often emerged around older burial mounds and entailed various ancestral connotations, which made urnfields well-perceivable socialising landscapes in which death, the self, and aspects of commemoration could be navigated and (repeatedly) encountered.
During his studies, Florian worked as a student assistant at the Pre- and Protohistoric Archaeology department at Hamburg University (2016-2018) and the European Prehistory department at Leiden University (2019-2021), where he assisted project research, book editing, data visualisation and database management within several research and citizen science projects, like Heritage Quest. Between 2018 and 2019, he undertook an ERASMUS exchange to the University of the Highlands and Islands on the Orkney Islands. In 2020, he received a student grant from the Prehistory Society Hamburg, donated by the Ute and Manfred Blödorn-foundation. Since October 2021, Florian is pursuing a PhD within the NWO-funded VIDI project "The Talking Dead. Reconstructing the transmission of information in Corded Ware and Bell Beaker Societies during the 3rd Millennium BC" after graduating from Leiden University.
PhD candidate
Faculteit Archeologie
World Archaeology
Europese Prehistorie
Work address
Van Steenis
Einsteinweg 2
2333 CC Leiden
Room number A1.06
Contact
No relevant ancillary activities