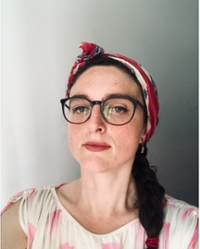 Elsa Charlety
Lecturer
Name

E.C. Charlety

Telephone

E-mail
Elsa Charléty is currently working for the Leiden Institute of Cultural Anthropology and Development Sociology and completing a PhD in Comparative Literature at Brown University and the Sorbonne University in Paris. Her main research and teaching interests include gender studies, critical race theory, ecocriticism, American and Hemispheric studies, literary analysis, and academic writing. She has conducted extensive research on the U.S South and the Caribbean, focusing on the cultural and scientific knowledge produced in the colonized Americas as well as the women who travelled through the plantation zone such as ethnobotanists, folklore collectors, and anthropologists.
More information about Elsa Charlety
Biography
Trained in English and Comparative Literature, Elsa Charléty has studied and taught in France (Université de la Sorbonne – Paris 4), the U.S (Brown University) and the Netherlands (Leiden University).
She is currently completing a PhD at Brown University and the Sorbonne. Her dissertation explores modes of producing scientific and cultural knowledge in the plantation zone, namely the region of the colonized Americas where European settlers developed a plantation economy. By following the path of trailblazing women who travelled, settled and lived in that plantation zone, she interrogates the role played by gender, race and the environment in the way knowledge was produced, shared, and spread.
Publications
Elsa Charléty has published articles in peer-reviewed journal including: "Tales of Possession and Dispossession: Narrative Economies of Loss and Grief in Edwidge Danticat's Claire of the Sealight (2013)." Sillages Critiques (25), Fall 2018; "Pouvoir (rire) de l'horreur : humour noir et misère sociale du Poor White dans le Sud d'Erksine Caldwell." Humoresques (42), Spring 2017. She has also contributed chapters in edited volumes and reference works, such as: Horror Literature through History, Ed. Matt Cardin, Santa Barbara: ABC-CLIO Press, 2017 and Undead Souths: The Gothic and Beyond in Southern Literature and Culture. Ed. E.G. Anderson, T. Hagood, and D.C. Turner, Baton Rouge: LSU Press, 2015.
In addition to her academic output, she is currently working on creative writing projects that include her fieldwork experience in the U.S South and reflect on the value of creative writing as a mode of knowledge production.
Teaching
Elsa has taught English literature and writing more than a decade in France, the United Kingdom, the United States and the Netherlands. She has also taught survey courses in English and Gender Studies, advanced undergraduate seminars in literature, anthropology and philosophy, as well as expository writing, translation and English as a Second Language (ESL). She is currently focusing on developing, coordinating and teaching academic writing courses for the Institute of Cultural Anthropology and Development Sociology.
Lecturer
Faculteit der Sociale Wetenschappen
Culturele Antropologie/ Ontw. Sociologie
Teaching Assistant of French K7