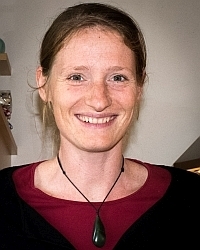 Ellen Cieraad
Director of Education
Name

Dr. E. Cieraad

Telephone

E-mail

ORCID iD
Since 1 June 2019, Ellen Cieraad is Director of Education and part of the management team of the Institute of Environmental Sciences (CML) at Leiden University.
More information about Ellen Cieraad
ORCID = 0000-0002-9813-9590
Ellen Cieraad is a quantitative plant ecologist with broad research interests centered on understanding species' distributional limits and responses of plants to their environment. She uses a variety of methods to address questions at the plant, ecosystem and national level. She enjoys combining and analysing data from various sources and disciplines to provide new insights.

Ellen graduated from the University of Amsterdam in 2006 with a BSc and MSc in Conservation Biology. Between 2008 and 2011, Ellen conducted her PhD research through Durham University (United Kingdom), where her research concerned the New Zealand treeline and the effects of low temperature on the physiology and distributional limits of trees. From 2002 until 2015, she was mostly based in New Zealand, and worked as a research technician (2005-2008) and researcher (2011-2015) at Landcare Research, an environmental science research institute. Her work centred on investigating the interactions between plants and their environment, focusing on the effects of a changing environment (e.g. temperature, nutrients and water) on ecosystem processes and species' distributions. During these years, she worked on various projects, including and assessments of the effects of temperature and rainfall on carbon fluxes both in rye grass in the lab and at landscape level in the desert in north-west China, and she conducted experiments testing how contrasting plant types (e.g., nitrogen-fixers vs non-fixers, and exotic vs indigenous) respond to (changing) climatic and soil conditions. Ellen was also involved in the development and analysis of biodiversity indicators improved and revised a national threatened environment classification. Her work increasingly involves assessing the effect of human-induced stressors (particularly land-use change and invasive species) on ecosystem processes and services.

Ellen is involved in the International Network for Next-Generation Ecologists ( INNGE), a network of ecologists that seeks to bring early career ecologists together from around the world.
Personal website: https://ellencieraad.wordpress.com/
On this site is also a list of publications : ( https://ellencieraad.wordpress.com/publications/)
Director of Education
Wiskunde en Natuurwetenschappen
Centrum voor Milieuwetenschappen Leiden
CML/Environmental Biology
Work address
Van Steenis
Einsteinweg 2
2333 CC Leiden
Room number A3.04
Contact
Organisatie activiteiten voor jonge ecologen