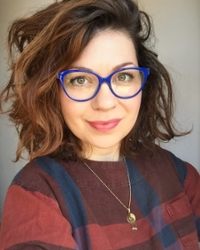 Eftychia Mylona
PhD candidate
Name

Dr. E. Mylona Ph.D.

Telephone

E-mail
Eftychia Mylona is PhD candidate at LIAS
PhD research
Beyond Departure: Greeks in Egypt, 1961-1976
My research explores the dynamics and mobilities of labor and citizenship of the Greek community that remained in Egypt after the implementations of Gamal Abd al-Nasser's Nationalization Laws in 1961 until the launching of the infitah policies by Anwar al-Sadat in 1976. This different reading of the post-1961 Greek presence in Egypt reveals the multiple layers of mobility diasporic communities expressed through labor and citizenship, and challenges the construction of a homogeneous social and economic post-colonial Egyptian state.
Fields of interest
History of the MENA region (Middle East and North Africa); Egyptian History and Culture; Social History; Nationalism and the formation of national identity in Diasporic communities of the MENA region; Media and Politics.
Research and Teaching Experience
The main focus of my research is on the Diasporic communities of the MENA region, and in particular on the Greek community in Egypt, after 1960s. This has been my PhD project for the last two years, in which I examine issues of national identity, social mobility and citizenship.

Within the BAIS program, I give tutorials on history, politics, culture and economics of the Middle East. Next to the courses related to the area of the Middle East, I also give tutorials on Introduction to Area Studies.
International and work experience
As a graduate student, I have worked as a research and teaching assistant for the department of Middle Eastern Studies and the department of Modern South Asian Studies, since February 2013 and September 2013, respectively, until June 2014. Before starting my academic trip to the Netherlands, I was teaching Arabic and Greek from 2009 until 2011 at language institutes, such as AXON Global Education Network, and privately, in Thessaloniki, Greece, where I come from.

Outside these academic experiences, I have also had the opportunity to be involved in various extracurricular activities and voluntary work in NGOs, such as UNESCO Chair of AUTH (Aristotle University of Thessaloniki, Greece) and NGO CulturePolis (Corfu, Greece). Furthermore, as a post-graduate student, I took part in the Middle East and Islamic Studies Student Association (HIKMA) at Leiden University, as a co-founder and Vice President from 2011 to 2014.
Extra-curricular interests
In my free time I love going to movies and concerts, to discover new places and different cuisines. Recently I started practising Yoga, which I am very much enjoying.
CV
Education
MA Arabic Language and Culture, Leiden University (2012)
Full Academic Year Advanced Arabic Language Course, Tanta University Public Service Center for Teaching Arabic as a Foreign Language (TAFL), Egypt (2010)
BA History and Archeology, Aristotle University of Thessaloniki (AUTH), Greece, (2008)

Employment
Aug 2014-present: Lecturer, BA International Studies
Feb 2013-June 2014: Research and Education Staff Member, Leiden University
Jan 2009-Jul 2011: Arabic Language Teacher, AXON Global Education Network, Thessaloniki, Greece

Academic Awards
Ibn Battura Merit Scholarship for Arabic Studies at Qalam wa Lawh Center, Morocco (Nov 2012)
Leiden University Fund (LUF): Fieldwork in the Archives of the Ministry of Foreign Affairs in Athens for the MA thesis (Jan 2012)
Annual Scholarship of Tanta University: Arabic Language Course, Egypt (Oct 2008)
PhD candidate
Faculty of Humanities
Leiden Institute for Area Studies
SMES APT
Lecturer
Faculty of Humanities
Faculteitsbureau
International Studies
Work address
Schouwburgstraat
Schouwburgstraat 2
2511 VA The Hague
Room number B1.10
Contact
No relevant ancillary activities