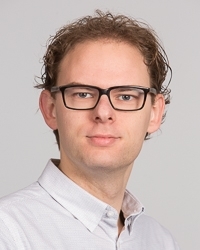 Ben Companjen
Digital Scholarship Librarian
Name

B.A. Companjen MSc

Telephone

E-mail

ORCID iD
Digital Scholarship Librarian
Universitaire Bibliotheken Leiden
Onderzoek & Onderwijs Diensten
Centre for Digital Scholarship
Murchison K.A. & Companjen B.A. (2019), Manuscripts, Metadata, and Medieval Multilingualism: Using a Manuscript Dataset to Analyze Language Use and Distribution in Medieval England, Digital Humanities Benelux Journal 1: 25-39.
Verhaar P.A.F., Companjen B.A., Donker van Heel K., Harmsen F.A.Z. & Archidona Ramírez J.J. (2019), Piloting the Abnormal Hieratic Global Portal. Digital Access to Textual Cultural Heritage (DATeCH) 2019 8 5 2019-10 5 2019 [conference poster].
Companjen B.A. (2018), Software & data skills trainen met Library Carpentry, IP: Vakblad voor Informatieprofessionals 2018(1): 20-21.
No relevant ancillary activities