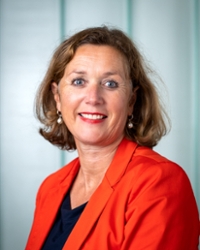 Atie Breugem
Secretary
Name

A.E. Breugem

Telephone

E-mail
Summary
Since January 2014 Atie Breugem is the office manager and core of the supporting staff of the Health, Medical and Neuropsychology unit (HMN). Formerly she had the same function for Cognitive Psychology and International Business Law. A (part of) her work includes: organizing meetings, preparing letters and reports, managing office budgets, assisting the organization's HR function by keeping personnel records up to date, arranging job interviews, etc., support company events and conferences, assisting new member , dealing with correspondence, complaints and queries and many more.

Atie's former education as hotel management combined with her outstanding organizational, initiative taking and communication skills make her an indispensable part of the HMN unit.
Personal
Next to her work for Leiden University, Atie also got her own business in which she can be hired to give professional clothing advice regarding color and style.
Secretary
Faculteit der Sociale Wetenschappen
Instituut Psychologie
Instituutsbureau Psychologie
No relevant ancillary activities