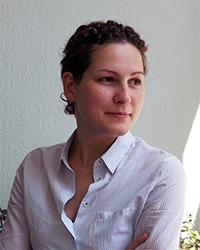 Anna van 't Veer
Assistant Professor
Name

Dr. A.E. van 't Veer

Telephone

E-mail
Anna van 't Veer is a postdoc at the Centre for Child and Family Studies and the Leiden Institute for Brian and Cognition (LIBC) at Leiden University.
Short CV
Anna van 't Veer studied psychology at Leiden University. She received her PhD from Tilburg University (Social Psychology, Tilburg Institute for Behavioral Economic Research), where she studied moral psychology, with a special interest in cognitive and affective processes underlying deception and deception detection. In 2014 she received a grant to visit Dan Ariely's lab at the Center for Advanced Hindsight (Duke University). She is currently a postdoctoral researcher at the Centre for Child and Family Studies at Leiden University, where her focus is on the evolutionary, biological (hormonal) and neural correlates of fatherhood and moral development during the transition into fatherhood. Next to this, she is interested in the way we do science; collaborative projects, replications, and above all, why and how researchers should pre-register their studies. See a recent paper about pre-registration in (Social) Psychology.
Research by
Anna van 't Veer's research focuses on neural and hormonal changes underlying the transition to fatherhood. She is currently involved in projects that investigate neural and hormonal processes in combination with fathers' involvement with, and protection of, their child.
Awards
Best research idea on the signaling function of emotions with the project entitled 'Emotion and morality in interpersonal relations' at the International Summer School in Affective Sciences of the National Center of Competence in Research in Affective Sciences, Geneva, July 13, 2013.
Grants
Graduate Student Travel Award from SPSP for research on interoception and moral judgments presented in a symposium on morality, Long Beach, California, February 2015. $500.
Center for Open Science Replication Grant (2013): "Reproducibility grant proposal: Prescribed optimism, Is it right to be wrong about the future?" $240 (with Bethany Lassetter & Mark J. Brandt). See for the completed replication report: https://osf.io/8u5v2/
EASP travel grant to visit professor Dan Ariely at the Fuqua School of Business, Duke University, Durham, North Carolina, February-March 2014. €800.
Teaching activities
PhD candidates
Selected Publications
Relevant links
scholar.google.nl/citations?user=D7GrpBIAAAAJ&hl=en
nl.linkedin.com/in/annavantveer
@annaveer
Assistant Professor
Faculteit der Sociale Wetenschappen
Instituut Psychologie
Methodologie & Statistiek