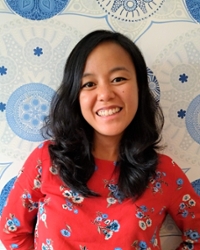 Andrea Ragragio
Name

A.M.M. Ragragio

Telephone

E-mail
Andrea Malaya M. Ragragio is a PhD candidate in Cultural Anthropology. She obtained her Master of Arts degree in Archaeology and her Bachelor of Arts in Anthropology (cum laude) from the University of the Philippines (UP), Diliman campus.
Previously, she worked as graduate assistant in the Center for International Studies and as University Research Associate in the Archaeological Studies Program, both at UP Diliman, and as a Lecturer at the Department of Behavioral Sciences in UP Manila. She is currently with the faculty of the Department of Social Sciences in UP Mindanao in Davao City, and helps edit BANWA, the in-house peer-reviewed journal of UP Mindanao.
Supervisors
Prof. dr. P.J. ter Keurs
Dr. E. de Maaker
Writing
Andrea writes about culture, education, and politics in her column Soyez Realistes in the online news outfit Davao Today (www.davaotoday.com). She is a Board Member of Salupungan International, an international solidarity network of indigenous peoples advocates, and she is also a member of the Alliance of Concerned Teachers in the Philippines.
Work days
Monday until Friday
Faculteit der Sociale Wetenschappen
Culturele Antropologie/ Ontw. Sociologie